NEWS
Red Carpet Confidential: Selita Ebanks Says "Hell No!" to Kim Kardashian Returning the Ring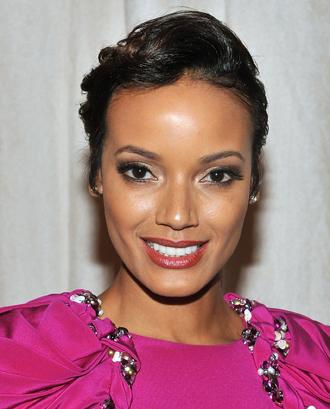 If anyone could be sympathetic towards Kim Kardashian as she endures public scrutiny over her divorce filing after 72 days, it's Selita Ebanks, who broke off her five-month engagement to Nick Cannon (now happily wed to Mariah Carey) in 2007.
OK!'S RED CARPET CONFIDENTIAL: KIM KARDASHIAN PAL LALA ANTHONY SAYS "IT'S A HARD TIME"
"At first I just thought 'Okay, it's really sad,' but then you think it's for TV," the supermodel, 28, tells me Thursday at the 401 Green photography and fashion auction to benefit Costa Verde International School held in NYC. "But then you have to put on her shoes and understand that it's hard to live your life in that light, so whatever it was and whatever it is, I still feel bad for her. She can't even have a moment to fully cry. At the end of the day, we're all women, and it's a hard thing, especially when it's happening in front of the world."
Article continues below advertisement
OK!'S RED CARPET CONFIDENTIAL: KRIS JENNER SAYS ROB KARDASHIAN WILL MAKE "AN AMAZING" HUBBY
Kris Humphries, who reportedly earned $3.2 million last year, may want the $2 million, 20.5 carat ring back, considering he does not want the divorce.
However, Kim's mom Kris Jenner has said, "I hate an Indian giver."
So, should Kim return the ring if the marriage is dissolved?
"Hello no!" Selita exclaims. "I thought she bought it herself. That's a big ring! I don't know if Kris Humphries' contract fits the price."
Like Kim, her 12-carat sparkler also wowed, and calling it quits was a challenge.
"It was hard," she says. "Having a public breakup is hard because people speculate and they assume and they think that they know what it is. Granted, most of her life is reality TV, so that makes it even harder, but for me, it was a very sad time just because I was so young and vulnerable and naïve."
OK!'S RED CARPET CONFIDENTIAL: KIM KARDASHIAN PALS PREDICTED SPLIT
Although Selita does not know Kim, she feels for her.
"I've never spoken to her before, but if I did, I'd just give her a big hug," she says. "She's a good girl."