NEWS
Red Carpet Confidential: Sherri Shepherd Reveals How 'DWTS' Changed Her Body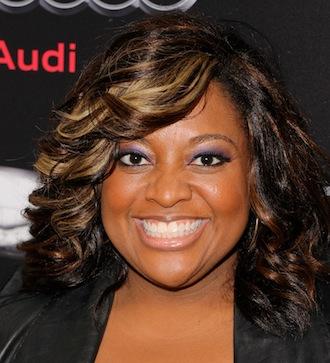 Although Sherri Shepherd was eliminated from Dancing With The Stars in a shocking upset Tuesday, the View co-host is taking away a toned body as a much-desired consolation prize.
"Dancing is like pilates because you're using your body, and you're using muscles that you have never used," the married mom, 44, tells me during a Clorox Last Comic Sitting event. "Val Chmerkovskiy kept saying 'use your abs,' and I kept saying, 'I don't have abs, I have a belly.' You're using muscles that you've never used, so it elongates your muscles. My body is reshifting and reshaping. I think my belly fat is going to my boobs, so it's really nice."
Article continues below advertisement
Although she isn't focused on poundage, Sherri won't pressure herself to maintain the figure.
"I'm very, very happy with my body. I'm happy the way I am, so I don't have a goal weight. I don't think that's realistic on Dancing With the Stars. When you dance 4-5 hours a day and you're completely sweating all the time, you're going to lose weight, but once you get off Dancing With the Stars, unless you're doing it every single day, it's not realistic to think that you're going to keep that size."
Article continues below advertisement
She adds, "I work out, and I do a lot of cardio, so my goal is to just be healthy. My goal is to be able to walk up the stairs and be able to breathe. My goal is to be able to do a Jive for two minutes without passing out. That's my goal."
Will her experience on DWTS change the way she eats and exercises now that her journey on the show is finished?
"Um, no laughs! I was eating pretty healthy beforehand, so I think it's made me appreciate dance, so I do think after Dancing With the Stars, I will continue with dance lessons. I love the dancing so much, and like they say, it helps with Alzheimer's, so I'm definitely going to be in dance classes."
OK! BLOGS: RED CARPET CONFIDENTIAL: CARRIE ANN INABA SAYS DWTS MADE HER FEEL 'EMPTY'
Hubby Lamar Sally, whom she wed last August, is pleased with the results.
"My husband likes it! As long as he's happy, he's the one who's got to look at it every day."
Of course, now that she's off the show, the newlyweds can take advantage of their time together.
When asked if dancers make better lovers, she says, "I fall asleep most times when I get home after rehearsing for five hours. I don't know about lovemaking! When it happens, if you see that glow, then you know that's true!"