NEWS
Red Carpet Confidential: The Surprising Way Adriana Lima Calms Her Nerves Before The Victoria's Secret Fashion Show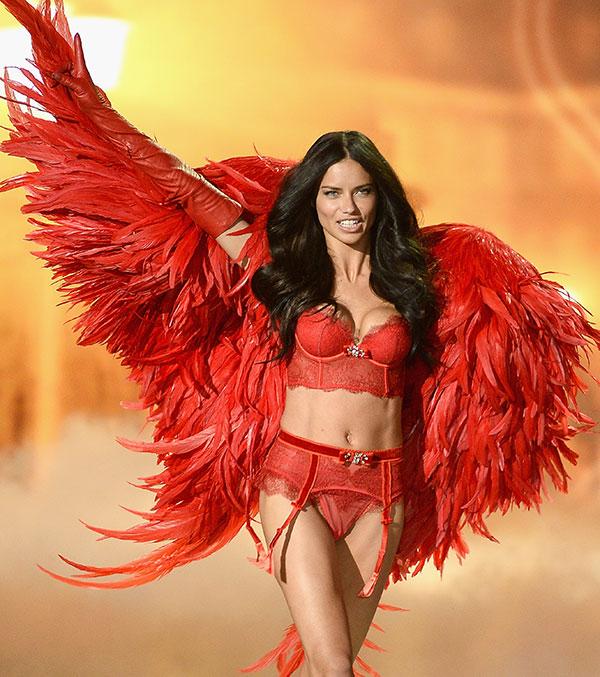 Brazilian bombshell Adriana Lima lights up the stage during the Victoria's Secret Fashion Show, which airs tonight at 10 pm ET on CBS.
How does the married mother of two, 32, prepare for such a runway?
OK! Exclusive: Victoria's Secret Models Reveal Their Workouts and Food Cravings
"The key word for me is to watch your portions," she tells me while relaxing with curlers in her hair during the hair-and-makeup portion of the day. "You can basically eat everything you want, but moderate. I'm a mom, so I have to be an example for the kids. And also I want to be an example for the people."
Article continues below advertisement
Of course, gearing up for the big night requires some serious dietary streamlining.
"I usually cut out fried foods and sweets in the two weeks leading up to the show," she says.
Still, getting a Victoria's Secret Angel-worthy body doesn't happen by diet alone.
"I work out for myself, if not for specifically the show," she says. "I want to be healthy. I do boxing. I just love it. It's an exercise that you don't use machines, and it helps your self-esteem, because every day you're learning something new."
OK! Exclusive: Win a Gift Bag From The Victoria's Secret Fashion Show
Although her mom is the only family member on site, Adriana's husband Marko Jaric and daughters Valentina, 4, and Sienna, 14 months, are at home.
"It's good to have some family around," she says. "My kids are too young to be here, but they help me on a daily basis. Sometimes I think of them, and it's just pure happiness – an instant happiness. They're very supportive, so it's great. I talk to them on the phone more than ten times every second, so the whole family is there cheering for me, and helping me."
Article continues below advertisement
MORE ON:
Red Carpet Confidential
After the hair-and-makeup portion are complete, she's ready for showtime!
What's her favorite look of the night?
Photos: Karlie Kloss Preps for the Victoria's Secret Fashion Show
"I love the Victoria's Secret Very Sexy Long Lined Demi I wear during the Parisian Nights section," she says. "Red is my favorite color and always makes me feel sexy and confident on the runway."
Even though Adriana has walked in twelve (!) previous Victoria's Secret Fashion Shows, she still gets nervous. And she has a unique way of coping with the jitters.
"To deal with my nervousness, I like to be calm. Right before I walk onto the runway, I sit down and listen to music, I meditate. That helps me a lot. I listen to affirmations laughs from Deepak Chopra right before the show, and that helps me. Like 'you are here. Believe in yourself. Be strong. Pay attention to the present. Enjoy your time.'"
OK! Exclusive: VS Model Doutzen Kroes' Diet Secrets
What are her get-sexy secrets?
Article continues below advertisement
"It's all about personality," she says. "It's about believing in yourself. It's about confidence, and how I get to the point, is you have to embrace who you are. That's what gives you confidence. Even if you have flaws or you make mistakes, it's OK."
When the show wraps, she'll allow herself a special treat.
"Chocolate and coconut!"
Hm, does she get to keep anything from the fashion show?
"I would love to keep the wings—I just don't have anywhere to store them!"