NEWS
Red Carpet Confidential: Tiffani Thiessen Confesses That She's "In Talks" To Have More Kids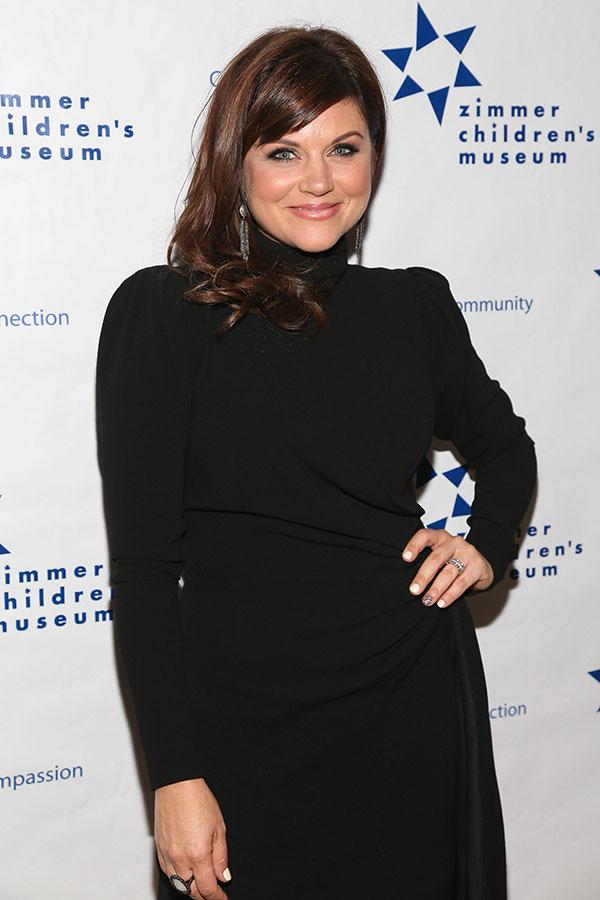 Just because Tiffani Thiessen has been married to actor hubby Brady Smith since 2005 doesn't mean she takes her man for granted.
How did she marry the right guy?
Photos: The 29 Best TV Guest Stars Ever
"Being that I have so many single girlfriends, I would say that a lot of it's luck, a lot of it is the right time and the right place," the warm White Collar actress, 39, tells me during Eight O'Clock Coffee's Red Bag Collection in support of Dress For Success event at Metropolitan Pavilion in NYC. "I was set up by a friend. I would hope to say that it was meant to be. It's hard to say because I have so many girlfriends who haven't found that person, so I feel very fortunate that I have."
Article continues below advertisement
Even now that they're parents to three-year-old daughter Harper, Brady keeps the love alive.
"laughs He just left for L.A. to go home for a week, and he wrote a little note on my closet door. He wrote a little note and drew himself, saying how much he was going to miss us. It's the little things that mean the most."
For Tiffani and Brady, it wasn't a case of opposites attract.
"We both come from very similar backgrounds," says Tiffani, who also starred on Saved By The Bell and Beverly Hills, 90210. "We have similar qualities, we have similar interests, and we both wanted the same things in life. That's what makes for a good relationship, too. We were raised very similarly by our families. I thankfully can say I enjoy and love his family to death, and he can say the same thing about my family."
Article continues below advertisement
His love for his in-laws runs deep.
"My mother lives with us in a small, tiny apartment here in NYC for six months out of the year," Tiffani says. "A lot of people probably couldn't say that about their mother-in-law. I'm very fortunate that my husband and my mother love each other as much as they do."
Plus, he is quick to put a smile on her face.
OK! News: Why You Need To See Bayside: The Musical
"He makes me laugh. He still makes me laugh. Maybe not the same way, but he still makes me laugh. cackles"
MORE ON:
Red Carpet Confidential
Another thing they enjoy together is their lil' girl, who also makes them laugh.
"cackles She walked in the room, she had completely undressed herself, and she came into the room with her hands over her eyes and said "I'm nakeddddd!" Like it was some show! And of course, I was laughing so hard, she did it over and over and over again."
Will she get a brother or sister?
"We would love to have more kids," she says. "Absolutely. We're in talks. We haven't started yet, but we're definitely talking about it right now."
Catch Tiffani on White Collar, which airs Tuesdays at 9 p.m. ET on USA. For her OK! Interview, pick up OK! on newsstands now. What do you think of Tiffani's mom living with her family? Do you hope they have another baby? Tweet us @OKMagazine.