NEWS
Reese Witherspoon "Can't Process" Robert Pattinson & Kristen Stewart's Fame: "It's Strange"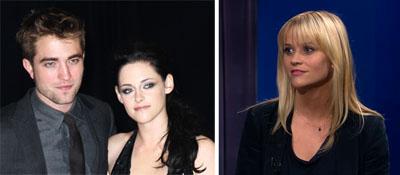 Article continues below advertisement
"I've never honestly experienced what Rob has, going to premieres and there's just millions of people waiting for him to just touch them," Reese explains to MTV. "I think it must be strange, but I don't even know how to process what he deals with and what Kristen deals with."
But Reese, who experienced firsthand the kind of adoration Rob receives at the Water for Elephants premieres, thinks that, "despite the circumstances, he's a really cool guy."
MORE ON:
Reese Witherspoon
"There's definitely something reassuring about how nice and normal Reese is because you don't see it that often," Rob told PopSugar of Reese last year. "Just to see people who've won Oscars and such. They're just nice, incredibly present actors. They're true professionals and really nice people."
Check out the video, below.
Get More: Movie Trailers, Movies Blog