NEWS
Reggie Bush on Getting Back with Kim: "Anything's Possible"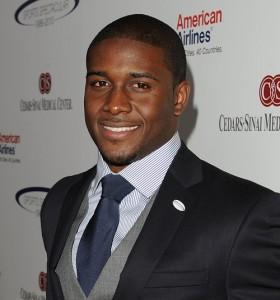 Reggie Bush is definitely comfortable with his moves on the field, but when it comes to his love life, the NFL superstar admits he hasn't honed his skills just yet. "You know, relationships, I haven't been able to figure that out yet," Reggie told reporters this weekend at the Reggie Cedars-Sinai Medical Center celebration of the 25th Anniversary of Sports Spectacular.
Reggie split earlier this year from reality star/model Kim Kardashian after dating for three years.
Article continues below advertisement
OK! GALLERY: KIM KARDASHIAN ROCKS HER BIKINI BODY IN MIAMI
So what's the best thing about being single?
"I guess I don't have to answer to anybody," Reggie said. "You come and go on your own terms. No, but you know, nobody wants to be single. Everybody wants somebody."
As far as rekindling the flames with Kim in the future, Reggie has not ruled it out.
"Yeah, you know, I mean anything's possible, you know what I mean? I never say never! You never know what's gonna happen."
OK! NEWS: BRUCE JENNER TALKS KIM & REGGIE SPLIT
Reggie said he has remained in contact with the whole Kardashian krew.
"I'm still close to the whole family," he told reporters. "We still talk. Bruce — I love Bruce! I still talk to all the family, sisters, everybody!"
Reggie is heading to South Africa soon for another sport — soccer! The footballer is attending the World Cup, where Kim's current fling, Real Madrid superstar Cristiano Ronaldo, will take the field.
Wonder if Reggie will run into Kim?
Reporting by Elizabeth Rosselle