NEWS
Reggie Bush & Peter Facinelli Fix Up a Feast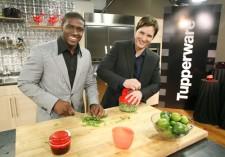 What do you get when you put an NFL superstar and a "vampire" in the same kitchen — hot guys in aprons who make a meal in under 20 minutes! Sounds good to us. New Orleans Saints running back Reggie Bush and Twilight star Peter Facinelli, show how easy it is for guys to cook a meal using Tupperware products at a recent Tupperware luncheon!
The two manly men had a little help from Tupperware CEO Rick Goings while cooking their 20-minute mahi-mahi with mango-pineapple salsa and chocolate cake meal!
Article continues below advertisement
PopEater caught up with the stars, asking about their background in the kitchen, and what they would eat for their last meal.
Reggie said he does not know his way around the kitchen, and his mom would probably "fall over" if he ever cooked for her.
OK! GALLERY: KIM & REGGIE ARE A WELL-GROOMED COUPLE
"My mom cooked growing up... for the most part, every night for us," the footballer told PopEater. "That's what I was used to — my mom cooking dinner, making us a lunch for school, she was a real housewife/working woman inside and out of the house."
If Reggie is going to cook for himself, it would be basic Mexican, including, "tacos and guacamole dip — ground beef, taco seasoning; it's pretty easy."
OK! GALLERY: REGGIE & KIM CAN'T GET ENOUGH OF EACH OTHER... OR SHOPPING
Reggie's last meal would also involve Mexican.
"I grew up in San Diego," he said. "We lived minutes from the border. Every time I go home to San Diego, the first thing I do is go to the taco shops. Little hole-in-the-wall taco shops, that's the best Mexican food. I'll have Carne Asada burritos with sour cream, guacamole and cheese, or tacos with guacamole and cheese."
Article continues below advertisement
Reggie still doesn't cook for the women in his life, as he admitted he never attempted a romantic meal. Poor Kim Kardashian.
OK! GALLERY: KIM & REGGIE HIT THE TOWN TOGETHER IN NYC
"I've definitely orchestrated romantic meals, but I understand, seeing the man in there cooking sends a little more... so one of these days I'm going to try a romantic meal," he said. "Now that I've learned that's an important thing to do."
On-screen bloodsucker Peter told PopEater he cooked his wife, Jennie Garth, a meal that "made her fall in love" with him when they first started dating.
OK! NEWS: PETER FACINELLI ASKS TWI-HARDS TO UNITE AND HELP HAITI
"It was a French chicken with a risotto," he said. "It's really easy to make, and it's really delicious."
Peter admits he doesn't eat healthy while he's traveling, but Jennie cooks healthy family meals.
Article continues below advertisement
"When I shot Eclipse, I bought all this food and then didn't open the fridge for four weeks and everything went rotten," Peter reveals. "Jen really tries to cook healthy. When we eat out, that's when you get into the chicken nuggets and french fries and all that. Once in a while it's okay, but Jen does spaghetti with pasta sauce and she makes turkey sauce — the kids don't like meat — and she takes all the vegetables and blends them up and hides them in the sauce. They don't even know they're eating them.
What would Peter eat for his last meal?
"My mom makes a good polenta. Polenta is usually like a side dish and can be pretty bland, but she makes it with a a gravy sauce and turkey sausages — it's really good. Or she'll make it, believe it or not, it's like a German dish, polenta with sausages and sauerkraut. They cook the sausages with the sauerkraut and put that with polenta, and it's really good. And the next day you can put blue cheese on top and fry it."