NEWS
Regis Philbin Tribute Show 'Suddenly Pulled' At ABC: 'Everyone Is Looking At Kelly Ripa'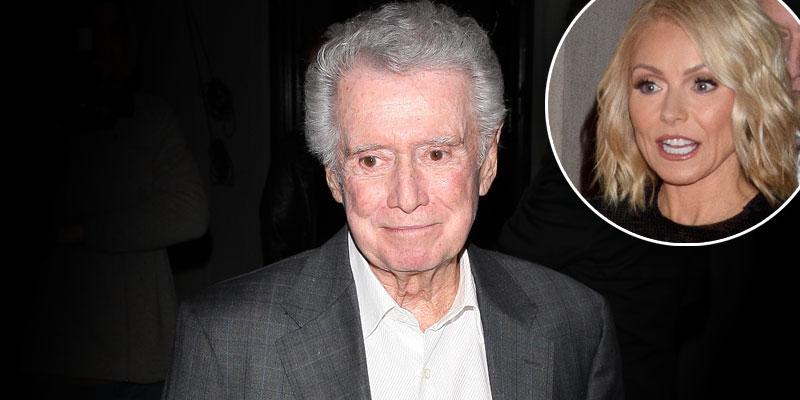 The big primetime ABC tribute dedicated to Regis Philbin, who passed away in July 2020 at 88 years old, has abruptly been canceled and everyone is looking at Kelly Ripa to see if she is behind the decision.
"Regis gave Live with Kelly and Ryan a massive 19 percent ratings bump the week that started and ended with special tributes to his passing. Monday saw Kelly and Ryan Seacrest getting emotional over the death of the man that invented their show. Friday's episode was a repeat of Regis's last episode ever from 2011 when he said goodbye to Kelly and the show he loved. Yet, even after proving he is still the ratings king even when he isn't around anymore, the tribute has suddenly been pulled," sources told OK!.
Article continues below advertisement
Philbin and Ripa, 49, had a complicated relationship, to say the least. After Philbin left Live With Regis and Kelly in 2011, he claimed that Ripa was "very offended" by his decision. "I left and I think she resented that. I mean, that's how I feel about it," he told The Insider in 2017. "And I'm sorry because I wasn't trying to dive from her, but I was a little tired, you know. And I was just turning 80, so I gotta get out of there."
Article continues below advertisement
In 2010, the blonde beauty told Wendy Williams that she is "like Philbins' mother." She added, "I'm not kidding. I'm almost like his grandmother. I irritate him that much where I'm like, 'Sit down. You've got to drink this. You can't do that. Don't do that. Don't eat that hot dog. You had heart surgery. Stop it.'"
SNUBBED: KELLY RIPA 'NOT INVITED' TO REGIS PHILBIN FUNERAL
Ultimately, Ripa wasn't on speaking terms with Philbin before he passed away. "Towards the end of his life, Regis was very honest about his nonexistent relationship with Kelly. He had tried contacting Kelly several times, but she never replied," a source previously told OK!.
"Kelly is notoriously stubborn and holds a grudge like no one else," the insider continued. "Once she feels slighted, Kelly cuts people off for life. Now it is too late for her to reach out to Regis and show a little kindness."
Despite their tense relationship, Ripa shared a sweet tribute to her former co-host on Instagram on July 25. "We are beyond saddened to learn about the loss of Regis Philbin," the post began. "He was the ultimate class act, bringing his laughter and joy into our homes everyday on Live for more than 23 years. We were beyond luck to have him as a mentor in our careers and aspire everyday to fill his shoes on the show."
KELLY RIPA SHOWS OFF HER TONED FIGURE IN A BIKINI ON THE BEACH
"We send our deepest love and condolences to his family and hope they can find some comfort in knowing he left the world a better place," Ripa shared.
The Hope & Faith star also got emotional while discussing Regis with Seacrest on their talk show. "As people get older, you always know that certain things are inevitable and passing away is one of those things," she stated. "But Regis is one of those people we all believed I think, would somehow not."