NEWS
Rep: Sean Penn Never Banned From Governor's Ball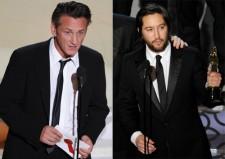 UPDATE 8:48 p.m.: After the below story was posted earlier today, a rep for Sean Penn told OK! he was never not allowed at last night's Governor's Ball, adding that the Academy had communicated that they would have welcomed the actor to the ball if he'd chosen to attend. --------------
Sean Penn's time on stage at the Oscars was brief last night when he politely announced the award for Best Actress, but apparently Sean's politeness may have been short lived.
Article continues below advertisement
OK! NEWS: SEAN PENN SPEAKS OUT ON CYNICS OF CHARITABLE CELEBRITIES
According to sources, Sean was banned from the annual Governors Ball last night after the ceremony, E! News reports.
Why?
Well, it may have had something to do Sean's former love, Robin Wright.
According to the E! story, the two-time Oscar winner had some kind of confrontation backstage with Greg Shapiro, who just happens to be dating Robin.
Just after the Milk star came face-to-face with The Hurt Locker producer, "Academy officials... said he was banned from the Ball," a source claims.
OK! NEWS: SEAN PENN SAVES LIVES IN HAITI
However, Sean's rep said there was no confrontation and that Sean decided not to attend the Ball.
A rep from the Academy said the same thing, "Sean Penn chose not to attend the Governors Ball."
He did attend the Sunset Tower Hotel afterparty and told E! News that his night was "fine."
If Sean did have a confrontation with Greg at least it doesn't sound like he put the Oscar winner in a Hurt Locker.