NEWS
Report: Willow Palin Writes Homophobic Slurs on Facebook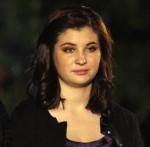 It might be tough to be the daughter of Sarah Palin — failed Vice Presidential candidate and sometime governor of Alaska — and the younger sibling of a teen mom sister currently dancing on reality TV, but unfortunately, 16-year-old Willow Palin is dealing with criticism of her mom's new show in an inappropriate manner. A new reports says Willow used homophobic slurs against a boy who made fun of Sarah Palin's Alaska.
Article continues below advertisement
http://www.okmagazine.com/2010/11/man-shoots-his-tv-screen-after-bristol-palins-dwts-performance/
After a fellow student of Willow and Bristol's wrote "Sarah Palin's Alaska, is failing so hard right now" on Facebook on Sunday night, TMZ says Willow wrote the words "f**got* and posted, "Haha your so gay. I have no idea who you are, But what I've seen pictures of, your disgusting ... My sister had a kid and is still hot."
She also directed another comment at the boy, Tre, which read, "Tre stfu. Your such a f**got."
And then Bristol chimed in as well, with: "You're running your mouth just to talk sh*t."
OK! DWTS WATCH: BRANDY ELIMINATED; BRISTOL PALIN MAKES THE FINALS
More Facebook users got involved in the war of words, with resulted in Willow retaliating and blaming after more users began to gang up on the Palins, Willow dropped another message that read, "Sorry that you guys are all jealous of my families success and you guys aren't goin to go anywhere with your lives."