NEWS
Reports: David Copperfield Accused of Sexual Misconduct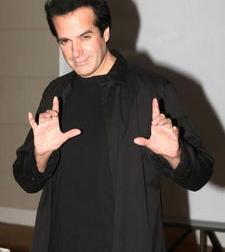 David Copperfield is being investigated by the FBI for possible sexual misconduct, according to the Las Vegas Review-Journal.
FBI raided the 51-year-old magician's warehouse Wednesday night after a sexual misconduct claim was alleged against him, according to a source.
The alleged sexual activity occurred outside the country, but fell into the FBI's lap because the accuser is a U.S. citizen, the source reveals.
Article continues below advertisement
David's lawyer, David Chesnoff, confirms the investigation.
"If in fact those are the allegations, unfortunately false allegations are all too often made against famous individuals," he says. "But we are confident the investigation will conclude favorably."
Per reports, FBI seized a computer hard drive, digital camera system, and nearly $2 million in cash. Robbie Burroughs, spokeswoman for the Seattle division of the FBI, confirms the raid.
"The only thing we're confirming right now is that there was some investigative activity in the Las Vegas area yesterday connected with a Seattle-area case, both of which are pending."