NEWS
Bollywood Actress Rhea Chakraborty Arrested In Boyfriend Sushant Singh Rajput's Apparent Suicide Case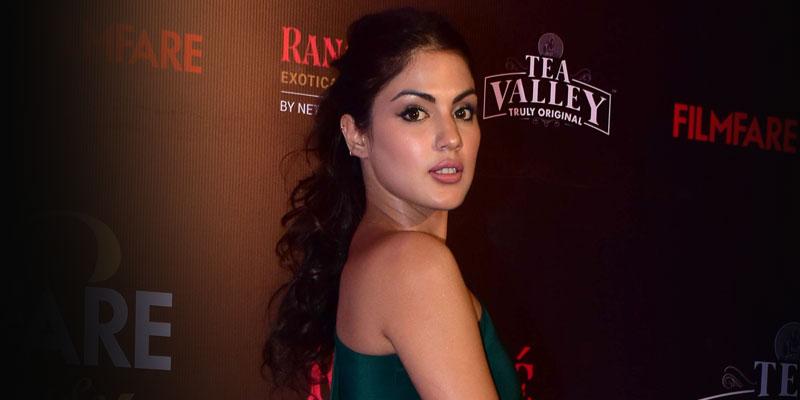 Bollywood actress Rhea Chakraborty was arrested by the Narcotics Control Bureau (NCB) in India on Tuesday, September 8, in a drug case related to the death of her boyfriend and actor, Sushant Singh Rajput. Multiple government agencies — the Central Bureau of Investigation (CBI), NCB, and Maharashtra Police — were involved in the investigation.
According to India's The Tribune, the 28-year-old was questioned by the police for three days.
Article continues below advertisement
Chakraborty was charged with organizing marijuana for Rajput. However, her bail was denied, and she was sent to 14-day judicial custody by a magistrates' court after the NCB revealed that she "is an active member of the drug syndicate connected with drug supplies." Her current charges could see her in jail for up to 10 years but the NCB has made no official mention of her using drugs. Chakraborty has now moved the bail plea to a sessions court, stating that she "has been falsely implicated in the case."
MAC MILLER'S ALLEGED DRUG DEALER ARRESTED IN CONNECTION TO RAPPER'S DEATH
The drug case swivels on the procurement of 59 grams of marijuana from Chakraborty's involvement with sources — including her 24-year-old brother Showik Chakraborty — close to her.
Chakraborty and Rajput started dating in the summer of 2019 before moving together in Dec. 2019. Rajput was found dead in his apartment on June 14 in an apparent suicide. He was 34 at the time he died.
Article continues below advertisement
Following the actor's death, his family has accused Chakraborty of encouraging him to commit suicide and even siphoning his money. However, after 18 hours of questioning, the Enforcement Directorate could not find "substantial direct transfers" from the late actor's account to Chakraborty or her relatives.
JAMIE LYNN SPEARS' BABY DADDY CASEY ALDRIDGE ARRESTED FOR DRUG POSSESSION
Chakraborty has denied the charges of involvement in Sushant's death. In an interview with India Today, the actress said that Rajput "lived king size."
"He went in a private jet, these were his lifestyle choices," she said.
The actor's therapist, Suzanne Walker, broke her silence on the matter and said that Rajput was "suffering from bipolar disorder." The investigation is ongoing.