NEWS
Ridley Scott Producing & Directing New Installment of 'Blade Runner'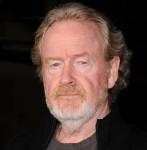 Ridley Scott won't just be revisiting his science fiction film Blade Runner, he'll be both producing and directing the new installment!
NEWS: RUSSELL CROWE FELT "20 YEARS YOUNGER" MAKING ROBIN HOOD
Ridley went back to Alien and Prometheus, so it's only fair that Blade Runner be next!
According to Deadline, Ridley has signed on to direct and produce a new installment of Blade Runner with Alcon Entertainment and their partners Broderick Johnson and Andrew Kosove.
Article continues below advertisement
Whether it will be a sequel or a prequel remains unclear as does whether Harrison Ford will have a role.
NEWS: THE PHILMGUY'S DVD REVIEW — UNSTOPPABLE; YOU WILL MEET A TALL DARK STRANGER
When the project was first announced, Kosove said (via MTV News) that Scott's "blessing to do what we're doing is very important to Alcon."
"It's important to Bud Yorkin, and certainly we have the greatest degree of respect to him as a filmmaker," he said. "He's one of the greatest living directors and one of the greatest directors of all time. So of course he's very important."
And it looks like they got more than just his blessing!