NEWS
Russell Crowe Felt "20 Years Younger" Making 'Robin Hood'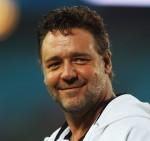 Russell Crowe may be a 46-year-old father of two, but playing the legendary folk hero Robin Hood, made the gruff actor feel young at heart — and body.
"I pushed myself really hard for Robin Hood," he said. "You wake up in the morning and you feel 20 years younger."
OK! NEWS: RUSSELL CROWE GETS A HOLLYWOOD STAR
But although he felt like a young man filming the tale of the leader who robbed from the rich to give to the poor, Russell's feeling the strain of starring in so many other action movies, he admitted at a film junket on Friday, reports Access Hollywood.
Article continues below advertisement
"I'm in a continuous death battle with my own body," the 46-year-old said. "I injured myself a lot on Gladiator. I actually injured myself on a silly little ice hockey movie called Mystery, Alaska, because I'd never skated… I've got wrist injuries and hand injuries from doing so much boxing in Cinderella Man. I've got stuff all over the place."
Meanwhile, the Australian explains that Robin Hood, his fifth team effort with Gladiator director Ridley Scott, differs from the usual movie adaptations of the medieval story.
"Most Robin Hood films end with King Richard riding in and saving the day," said Russell, explaining that he found the period between King Richard's death in 1199 and the signing of the Magna Carta an early document limiting the king's rights by King John in 1215 more interesting, and had pushed the film's time period accordingly.
Article continues below advertisement
"The 100-year history of cinema of Robin Hood had gotten so far away from the reality of the real Robin Hood story," he added.
OK! NEWS: RUSSELL CROWE CHALLANGES COLUMNIST TO A BIKE DUEL
"We tried to get back to the core values and push it off into the metaphorical… what was his end game? Was there a greater political purpose?"
Russell added that the film's political themes may have gone over the heads of his two young sons, who he attempted to treat to a screening.
OK! GALLERY: RUSSELL CROWE'S FAMILY DAY IN THE PARK
"I thought, I'll take them to this as the first one of my films they'll see," he said. "They were so excited, and they got to the screening room and were going crazy."
Too crazy, Russell noted: "My two little jet-lagged meteorites burned themselves to a crisp."
OK! NEWS: UP CLOSE WITH LEONARDO DICAPRIO, RUSSELL CROWE
"Five minutes into the film, my oldest boy, Charlie, is like, 'Oh Dad, can we go home now?' And my little one keeps calling out, 'Dad, when are you going to get a horse?'" he said.
"After an amount of time, I got the horse, and my little one goes, 'Oh good, Dad, you got the horse. Can we go home now? I just take it as one of those humbling moments you deal with all the time as a parent."
OK! NEWS: RUSSELL CROWE & ELIZABETH BANKS ALMOST PANCAKED BY FIRE TRUCK
However, Russell's not giving up on his kids enjoying his films just yet. "Sooner or later, we'll try again," he said.