NEWS
Rihanna: Organizing Katy Perry's Bachelorette is "So Much Pressure"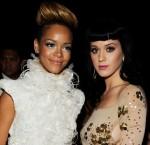 Rihanna may be headlining a major tour but she has another crucial job on her hands — organizing the best bachelorette ever, for BFF Katy Perry.
"It's taking up way more time than my tour," Rihanna tells Access Hollywood about the party to celebrate Katy's marriage to British comedian Russell Brand.
OK! NEWS: RIHANNA TO MAKE ACTING DEBUT IN BATTLESHIP
"It's so much pressure. Her wedding is probably going to be the best wedding I've ever been to and now I have to match the bachelorette party to that."
Article continues below advertisement
Ultimately, no matter what she does, Rihanna knows the bride-to-be will rock out.
OK! NEWS: RIHANNA TELLS TEENS: "BE YOURSELF" AND "DYE YOUR HAIR GREEN"
"I could have balloons and Disney characters there and she'll still make it wild. That's just Katy Perry. There's no way around that with her," Rihanna says.
Meanwhile, Rihanna discusses teaming up with another star — Eminem. The rapper surprised the singer on stage in L.A last week, dueting with the singer on "Love The Way You Lie", about an abusive relationship.
OK! VIDEO: KATY PERRY REVEALS NEW ALBUM COVER
"It's something that, you know, we've both experienced, you know, on different sides, different ends of the table," Rihanna says.
"He pretty much just broke down the cycle of domestic violence and it's something that people don't have a lot of insight on," she adds.
OK! NEWS: RUSSELL BRAND ON PROPOSING TO KATY: "IT WAS VERY, VERY MAGICAL"
Why did Rihanna agree to sing on the track with her own sensitive relationship history with Chris Brown? "The lyrics were so deep, so beautiful and intense. It's something that I understood, something I connected with," she says.