NEWS
Robert Pattinson on Filming 'Water for Elephants' in Tennessee: "Amazing Moonshine"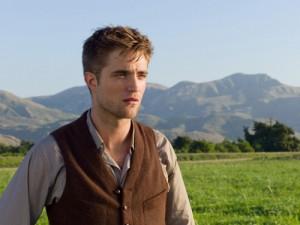 Aside from the culture and gorgeous landscape, the combination of the heat and high proof liquor in Tennessee certainly makes it a place to remember. Just ask Robert Pattinson. Rob spent time in the southern state while filming Water for Elephants, and his time there certainly left an impression on him.
"It was about 118 degrees," Rob said of the severe heat wave he encountered while he was filming.
Article continues below advertisement
"Love it. Love it," co-star Reese Witherspoon chimed in during Water for Elephants junket at Fairmont Miramar Hotel in Santa Monica, Calif. on Sunday.
OK! NEWS: ROBERT PATTINSON ON FALLING FOR SOMEONE — "YOU DON'T THINK ABOUT THE RISKS"
Reese is a Tennessee native, but "Ironically, the only part of the film that I'm not in is the part that they filmed in Tennessee," she shared.
"We were all dripping," Rob added of the heat.
"It's not for a bunch of wimps," Reese quipped.
Aside from the heat, Rob and the crew had to deal with bug bites and poison ivy while braving the Tennessee wilderness.
"Getting bitten by mosquitoes...bit by poison ivy," Rob said of his time in the state.
"Mosquitoes…I love it," Reese mused. "You know, they were e-mailing me, going, 'This is horrible!' "
Co-star Christoph Waltz appreciated the beauty of the area.
Article continues below advertisement
"It was really beautiful," the Oscar-winner added. "I was glad we shot there, but boy, it was a tough couple of days."
Rob remembered the authentic moonshine, a distilled beverage illegal in some states.
"There was an amazing moonshine there," Robert shared. "One of the best days of the shoot."
"Yes, authentic Tennessee moonshine," Christoph chimed in.
But the combination of moonshine and heat made for a risky situation.
"Drinking in 120 degrees," Rob shared. "Half the crew is passed out after one sip. It's amazing."
The moonshine must have made quite the impression on Rob as the hunky actor also told Reese it was his favorite part about filming in Tennessee last night onstage at the 2011 Academy of Country Music Awards!
Watch their presenting clip below!
Water for Elephants hits theaters April 22.