NEWS
Robert Pattinson on Falling for Someone: "You Don't Think About the Risks"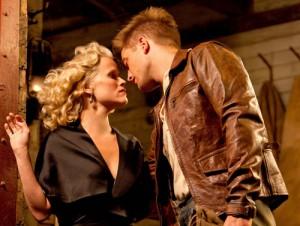 View all comments
In Water for Elephants, Robert Pattinson's character Jacob is mesmerized by Reese Witherspoon's character Marlena and Rob admitted at a press junket that he's had a crush like that before!
OK! NEWS: ROBERT PATTINSON EXPLAINS FLIRTING WITH THE ELEPHANT IN WATER FOR ELEPHANTS
During a Water for Elephants junket at Fairmont Miramar Hotel in Santa Monica, Calif. on Sunday, Rob was asked if he has ever had to deal with something tough that may have helped him relate to the tragedy his character Jacob goes through in the film.
Article continues below advertisement
"All the time. But then you reflect on it all," Rob explained. "I had an experience when I did a Harry Potter film years ago, it was just when I was starting to realize that I wanted to be an actor, even though, I had all ready finished three movies by that point."
"But, I remember being in Tokyo and looking out the window and kind of this Tokyo skyline, I just sort of realized, I could reflect on what had happened in my life and I was kind of in awe of what road I had taken kind of by accident," he shared. "It's good to have perspective."
OK! VIDEO: WATCH ROBERT PATTINSON & REESE WITHERSPOON PRESENT AT 2011 ACMS!
And has Rob ever had a crush in real life like the one his character has on Reese in the film?
"In terms of looking at girls and being mesmerized by them, I guess it happens…you don't really think about the risks when you're falling for someone, you just go for it," he said.
"You can say me," Reese interrupted. "Don't be embarrassed. I'm sitting right here, but it's okay."
"Yes!" Rob exclaimed. "Reese is so nice and normal. She is so cool and a great mom. And I was actually supposed to not be memorized in the script. It just happened!"
"I was giving it out," Reese explained.