NEWS
Robert Pattinson on Kissing Reese Witherspoon: "It's Really Easy for Me"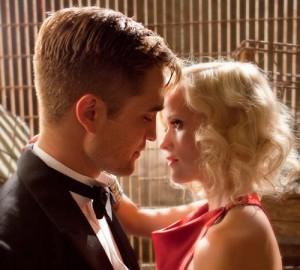 Robert Pattinson is an old pro at smooching sirens on the silver screen. From newcomers Kristen Stewart and Emilie de Ravin to veteran actresses like Reese Witherspoon and Uma Thurman, Rob's lips are getting some serious action lately. During a Water for Elephants junket at Fairmont Miramar Hotel in Santa Monica, Calif, Rob & Reese opened up about smooching one another...and shoveling poop!
When asked what it was like to kiss Rob, who is so much taller than her, Reese replied, "What's it like to kiss a tall guy? I don't know. In the movies, they put you on a box and then you kiss the tall guy."
Article continues below advertisement
MORE ON:
Reese Witherspoon
Rob plays Jacob, a circus hand who gets involved with the boss' wife, in the upcoming film WFE, and part of his job was shoveling some big mounds of manure from the animals on set!
"Working with poop is, I don't mind that at all. I have like a natural propensity to work on big piles of poop. I'm very familiar with it," Rob shared with reporters. "I wasn't grossed out by it at all. Because of the environment, everything felt so authentic all the time, you kind of just accept it as just part of the world."
He added, "There was like the scene when we were in that train car with like ten million flies, on any other movie, I think I'd be like, 'One take!' I was just perfectly happy, made a little mound, sat there and ate my lunch like everybody else."
Wow. We certainly love a rugged Rob!
Water for Elephants hits theaters April 22!