NEWS
Robert Pattinson Reveals He Wears a Wig in 'The Twilight Saga: Breaking Dawn - Part 2'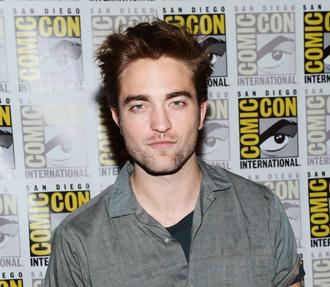 Twihards will have to make sure to keep a close eye on Robert Pattinson in the final installment of the beloved Twilight Saga when it hits theaters this November. The actor himself revealed that during re-shoots for Breaking Dawn — Part 2 in April, he had to wear a wig — because he had shaved off all his hair earlier in the year!
So, Edward Cullen's normally luscious locks may not look so luscious in some scenes of the movie.
Article continues below advertisement
OK! GALLERY: ROBERT PATTINSON, KRISTEN STEWART & TAYLOR LAUTNER BRING SOME OOMPH TO COMIC-CON
"We had to do the re-shoots on Breaking Dawn — Part 2 a few weeks ago, and it was the first time I had to wear a wig," Rob told fans and reporters on Thursday during the Comic-Con panel for the film in San Diego. "I couldn't believe my last two days on Twilight they put this orange wig on my hair."
Rob, who described the hairpiece as being "like Frankenstein's monster" and said it was "an amalgamation of six different wigs," was not happy with the way he looked and hopes to never have to wear a wig again.
But, as we all know, most of his co-stars had no choice but to sport wigs for the Twilight films, including Taylor Lautner, Ashley Greene and Nikki Reed. Even Kristen had to wear one in Eclipse after playing a short-haired Joan Jett in The Runaways!
OK! NEWS: ROBERT PATINSON & KRISTEN STEWART TALK SEX SCENES AND MORE TWILIGHT MOVIES
Still, when asked what advice he would give his younger self if he had the opportunity to go back in time to the first Twilight movie, Rob confessed, "Don't succumb to peer pressure and start wearing a wig like everybody else in this cast."