NEWS
Rob Pattinson, Kristen Stewart & Taylor Lautner Talk 'Twilight' & 'Fifty Shades of Grey' at Comic-Con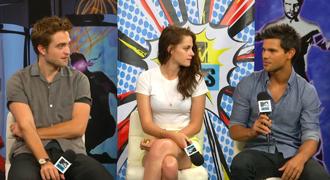 Article continues below advertisement
But by being back at Comic-Con, the cast has gone full-circle from when it first promoted this little film called Twilight.
Taylor revealed, "It is a little strange for me. It did all start here four years ago. It's coming to a close. It's weird."
But how would they feel if Stephenie Meyer came to them and said she was writing three more Twilight books. Would they just laugh?
Rob said, "That would be really funny if we just started laughing. That would be awesome; that would be cool. I would genuinely be stunned if she figured out a way."
But if you think that the cast is already through with Breaking Dawn - Part 2, think again. Kristen reveals that she isn't even close to finished yet; director Bill Condon keeps calling!
"Me and Bill were just doing voiceover stuff," she says. "It's not finished yet. It's very strange."
Fans will finally get to see the final results on November 16. And seeing Bella as a vampire is what everyone should be the most excited for. Kristen says, "I have arrived! I think the first hunt, being able to do it physically... It's like breaking a car in — look what I got. Fans are going to really dig it. We went back and did more to make it even cooler."
Article continues below advertisement
"That would be disgusting!" says Kristen, while Rob, in his usual off-the-wall manner, added, "I would just sit there and lick the pages." Oh, Rob, don't get your fans all worked up.
Another way Rob disappointed fans lately was when he was M.I.A. after he and Kristen won yet again at the MTV Movie Awards for Best Kiss. How would he reenact an acceptance speech for it now? Well, he wouldn't.
Rob says, "I think it was more Kristen's best kiss. She would always just kiss me. I would just receive. I would just receive pecks."
Awww! How cute are they!?