NEWS
Robert Pattinson Reveals His Dream Co-Stars — Jim Carrey & Eddie Murphy!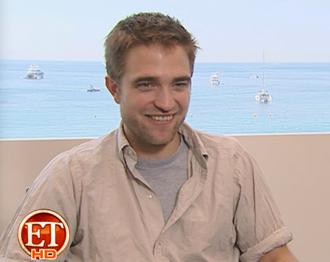 Robert Pattinson may take on darker, more serious movie roles, but in reality, the actor is striving to star in a comedy!
In a new interview with Entertainment Tonight, Rob reveals his four favorite films, his dream co-stars and his future goals now that The Twilight Saga is coming to an end.
OK! GALLERY: ROBERT PATTINSON ARRIVES IN L.A. AFTER COSMOPOLIS TOUR
"There was something nice about doing Twilight where I always felt you could experiment in between and take a risk and then you'd always have a another Twilight movie to go back to," Rob explains. "But now there isn't one. That fear, it kind of makes things easier to decide."
Article continues below advertisement
"You kind of see what you like more because when there's a safety net, you're not really making real decisions you're kind of like, 'Oh maybe it will work, maybe it won't, but I got another Twilight film anyway,'" he adds. "Now that there's no Twilight films, I'm like, 'This has to work!' It's nice, it makes you stronger I think."
So, what kind of film does Rob want to do next? Well, considering he's a fan of funny actors, we'd say a comedy! The Cosmopolis actor says that his favorite films are Fear and Loathing in Las Vegas, One Flew Over the Cuckoo's Nest, Corky Romano and drumroll please... The Mask!
"When I was younger I'd memorize every single line to The Mask and just watch it and say the lines along with the movie... with like no emotion," he laughs. "It was ridiculous."
OK! NEWS: ROBERT PATTINSON ADMITS: "I DON'T HAVE A PROBLEM WITH NUDITY"
Was Cameron Diaz the reason he loved the flick so much? Nope. Actually, RPatz is a huge fan of Jim Carrey's!
"I love Jim Carrey, I think he's amazing," Rob reveals. "He's one of the most consistent actors and people don't really realize because he's a comedian. I think he's phenomenal. He's really, really great."
"I love a lot of comic actors," he adds. "I love Eddie... I want to do a film with Eddie Murphy. I don't know though, I've never met him or anything!"
Do you think Rob should take on a comedy for his next film role?