NEWS
Robert Pattinson Says Reese Witherspoon Is "A Lot Bawdier" Than "America's Sweetheart"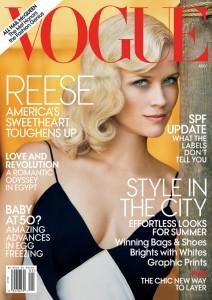 According to Robert Pattinson, there's more to his Water for Elephants co-star Reese Witherspoon than meets the eye and she's not exactly "America's Sweetheart."
OK! VIDEO: WATCH ROBERT PATTINSON GET FLIRTY IN NEW WATER FOR ELEPHANTS CLIP
Reese covers the new issue of Vogue (looking gorgeous doing it) and during her interview, Vogue asked Rob to share his opinion of Reese.
"In terms of public perception, she's thought of as America's Sweetheart. And she kind of is in a lot of ways. But I think that she's a lot bawdier than that, a lot more raucous," Ron explains. "It did actually shock me to see that."
Article continues below advertisement
"She's tough. You wouldn't want to get into an argument with her at all," he adds. "You can always tell that she will be incredibly nice to anyone who's not an idiot, but it's always very clear that there's a line you really shouldn't cross."
So what did Reese think of Rob's view of her?
"Oh, yeah," she says. "I'm a little junkyard dog."
MORE ON:
Reese Witherspoon
But Reese will probably always be viewed as "America's Sweetheart" to her fans and she shared what feedback she's heard from them about her new husband, Jim Toth.
"He's wonderful," Reese says of Jim. "He's just a really great guy, and I feel really lucky.
"It's so cute," she adds. "Over the holidays I was at a department store in L.A. with my friends, and these three women from Oklahoma came up to me, and they said"— Vogue says she lays on a thick Southern drawl —"'Reese. We are so happy for yeeew. We liiike this guy for yeeew.' And I said, 'You do?!' 'Yes, ma'am. We think he is a niiice man. We think he is going to treat you well and be good to yeeew.' I was like, 'Really?' So sweet! And I told them my mother likes him very much, too."