NEWS
Robert Pattinson's Sitting Next to Betty White at People's Choice Awards Tonight!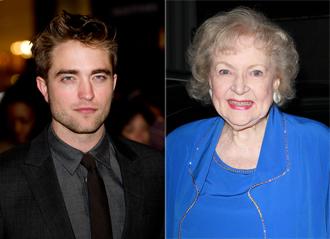 We hope Kristen Stewart isn't too jealous. Robert Pattinson will be sitting next to one of Hollywood's hottest stars at tonight's People's Choice Awards: Betty White!
OK! GALLERY: TWILIGHT THREESOME TAKES OVER AS PEOPLE'S CHOICE AWARDS WINNERS
Rumors are swirling about what will go down at the People's Choice Awards tonight, but one piece of Twilight news seems pretty certain.
Rob will be sitting next to Betty!
Article continues below advertisement
E! News' Marc Malkin Tweeted a photo from inside the venue that showed the seating assignment, and the two have been paired up.
Rob has confirmed he will attend the award show this year, but sadly his girlfriend, Kristen Stewart, has not.
Still, some Twi-hards are holding out hope that she might show up, and they're also hoping another rumor is true.
People's Choice Tweeted, "Hmm that's an interesting rumor..RT @TwilightTopNews: Breaking Dawn Part 2 Trailer To Be Shown at People`s Choice 2012."
Now that would be amazing if it came true! Do you think it's possible?
OK! NEWS: KATY PERRY WON'T ATTEND PEOPLE'S CHOICE AWARDS
If not, it will still be a great show! The Hunger Games stars Jennifer Lawrence and Liam Hemsworth will be in attendance, as well as Glee's Lea Michele and Cory Monteith, E! News reports. Hosting the show will be The Big Bang Theory's Kaley Cuoco.
And, of course, we can't wait to see the interaction between Rob and Betty!
The shows starts at 9 p.m. ET tonight, so don't miss it!