NEWS
Robert Redford Receives Legion of Honor in France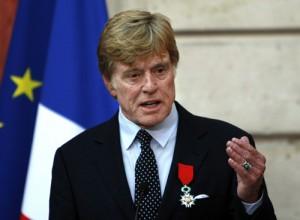 Robert Redford was inducted today into France's Legion of Honor by French President Nicolas Sarkozy. The 74-year-old Sundance Kid star and director was congratulated for his successful career in the film industry as well as his work with trying to protect the environment. Also in attendance to congratulate Robert was his very proud wife, Sibylle Szaggars.
OK! GALLERY: CELEBS GET CLOSE AT THE ROMANTICS SCREENING AT SUNDANCE
Article continues below advertisement
Sarkozy pinned a red-ribboned medal onto Robert's suit and said during a speech, "I know 65 million French people who would like to be in my shoes right now," the Associated Press reports.
He also told the actor, which was translated through an earpiece for Roberts, "you are the incarnation of the United States and all that that country represents. Those who love cinema long remember ... (your) films, which we watch and re-watch with the same emotion each time."
OK! NEWS: ROBERT REDFORD TIES THE KNOT IN GERMANY
Robert was also commended for his work with environmental causes.
"We need friends like you to have the courage to try to wake up people's consciousness," Sarkozy said.
Robert remembered his time spent in France after he dropped out of college during his thank you speech.
"I didn't know anything about my own country, I was naive and narrow-minded and it was the French students ... who opened my eyes and gave me a real education," he said. "I will continue with my commitment to make cinema that opens people's spirits and goes beyond borders, and this prize will help me do that."