NEWS
Russell Brand Jests About U.S. Election: "A Meaningless Spectacle"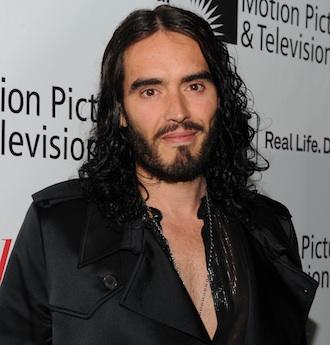 Russell Brand closed out the winter TV press tour taking jabs at U.S. politics while heavily promoting his new late-night show, Strangely Uplifting, which is set to air in April. Divorce filings from Katy Perry aside, he seemed to be in fine, raw Russell form as he poked fun at political candidates.
OK! NEWS: RUSSELL BRAND & KATY PERRY'S MARRIAGE ENDED DUE TO CHEATING CHARGES? According to The Hollywood Reporter, Russell commented on Mitt Romney's wealth: "Other billionaires must seem like Dickensian street urchins eating gruel with fingerless gloves." His overall thought on the presidential election is that it is a "meaningless spectacle." He explained: "We know it's meaningless who the president is, don't we? So I'm not going to be part of the meaningless spectacle. It's like describing individual termites. The only legitimate distinction in global politics, I think, is: Are you rich or poor?" OK! NEWS: RUSSELL BRAND FILES FOR DIVORCE FROM KATY PERRY Then he remarked on former speaker of the House Newt Gingrich's name, calling it "ludicrous, amphibious, bizarre." When Newt dissed Mitt for speaking French, Russell added, "Like that makes him elitist and a bit of a whoopsy. It's so extraordinary that someone would be criticized for speaking another language." Although Russell doesn't intend to be a "malevolent jester attacking people," he wants to "make people feel better than they do now" on his forthcoming show. And if this means poking fun at himself, so be it. He added, "I could analyze myself. If I'd done something actually newsworthy, then I'd cover it."
Article continues below advertisement