NEWS
Ryan Gosling Says He's 'Over the Moon' on 'Blue Valentine' Rating Change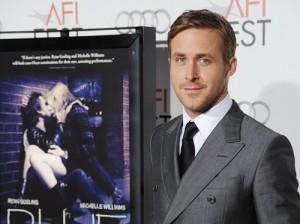 The MPAA changed the NC-17 rating on the film Blue Valentine yesterday to be R instead after Ryan Gosling, and many others involved in the project, expressed their anger. But now there won't be a grumpy Gosling to deal with as Ryan says he's "over the moon!"
OK! GALLERY: MICHELLE WILLIAMS & RYAN GOSLING STICK CLOSE AT BLUE VALENTINE NYC PREMIERE
Ryan's argument on the NC-17 rating placed on his film was that the Motion Picture Association of America was being hypocritical.
Article continues below advertisement
"I don't understand why an oral sex scene between two girls in Black Swan is rated R but an oral sex scene between a husband and a wife in Blue Valentine is considered pornographic," actor Ryan told PopEater before the rating was reversed.
But now, he only has nice things to say!
"I am so appreciative that the MPAA was gracious enough to reconsider their rating of the film," Ryan said in a statement. "I can't express how grateful I am to those in the media who stood up for the film and put their reputations on the line in using their voices to support something they believed in."
"This is a film that was created for the audience, to reflect how complex they are and to involve them in a dialogue that Derek Cianfrance has been trying to engage them in for twelve years," he added. "We're over the moon to have the opportunity to finally be able to share it with those for whom it was intended."
OK! NEWS: RYAN GOSLING — WHY IS BLUE VALENTINE NC-17 WHEN BLACK SWAN IS R?
Before the rating change, Ryan spoke to PopEater about his disappointment in receiving an NC-17 rating on Blue Valentine.
Article continues below advertisement
"I don't think people understand that getting an NC-17 rating doesn't just mean that kids under 17 can't see a film. If that's all it was about, I don't think anybody would be arguing. What it's about is if a film gets an NC-17 rating you can't play in major theater chains. You're saying you don't want anyone to see this movie unless you live in a big city with an art house theater," he said. "And then the question is, 'What are you trying to keep kids away from seeing?' A film that shows the repercussions of treating sex carelessly, a story of a girl who has a child because she has unprotected sex and feels the ramifications of that for the rest of her life. I'm confused."
OK! NEWS: GOOD NEWS, RYAN GOSLING! MPAA GRANTS BLUE VALENTINE AN R RATING!
"It's such a realistic portrait of a relationship. Don't you think relationships are the hardest thing in the world?" PopEater asked the actor.
"Aren't they for everyone? he asked with a laugh. "I think they're much harder than the movies present them. In a way, I think this film is a great companion to The Notebook because it kind of fills in the time period that The Notebook skips past. It's about the day-to-day dealings and keeping love alive in a domestic situation."
"Companion" to the notebook? Okay, now we really want to see this movie!