NEWS
Ryan Seacrest's Big Announcement on 'Today': Olympics Correspondent!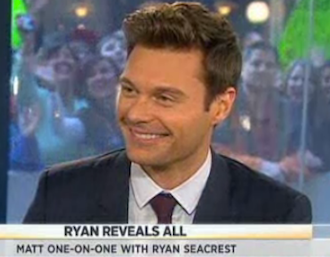 This morning on Today, Matt Lauer joked with American Idol host Ryan Seacrest and asked if he was after his job.
OK! NEWS: AMERICAN IDOL 2012 RECAP — ERICA VAN PELT ELIMIATED FROM TOP TEN!
With the same lightness, Ryan responded, "Oh, didn't they tell you?" He implied he'll actually end up doing the weather!
All joking aside, considering Ryan's worked with the E! network for years and NBC Universal and E! have the same parent company, he's going to "join the NBC family and continue to have a role at the E! network."
Article continues below advertisement
As for his first assignment? Drumroll please: The primetime team at the Olympics! Ryan indicated he's "very much looking forward to" the new gig!
OK! NEWS: AMERICAN IDOL CAST-OFF ERIKA VAN PELT WAS "CONFUSED" BY JUDGES
So, will Ryan remain the grand poobah on Idol as well? He indicated, "I plan to stay there." He added, "It's a great, great program to run. It's a circus to run and I enoy it."
Although Matt asked him where he sees himself in five years, he quipped, "The same height but hopefully balancing everything that I've been able to build and doing a good job at it... I like to be a good conduit to pop culture." Congratulations, Ryan!
Catch the entire interview over at NBC!