NEWS
Sandra Bullock's Revenge: A New Face!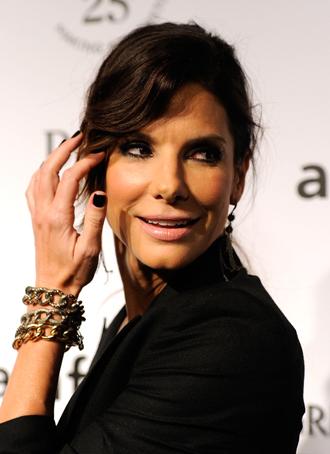 As Sandra Bullock made her way through the check-in line at JFK airport, the actress sported lips that looked noticeably poutier and fresh-looking skin. "It looks like she got a little bit of help with her lips and her smile lines," says a friend. "Her skin looks smoother and her pores look smaller."
OK! NEWS: RYAN KWANTEN ON MEETING SANDRA BULLOCK: "SHE EXUDES RADIANCE FROM THE INSIDE OUT"
Sandra, 47, has been frequenting the same plastic surgeon for the past 15 years, says a source. "She appears to have had a forehead lift a few years ago and now undergoes a regular regimen of injectables," the source explains in this week's issue of OK!.
Article continues below advertisement
"It looks like she's had Boxtox injections on the upper and lower corner of her eyes, which soften crow's feet and pulls up the outer edges of the brow and lifts the lid. It also seems like she's a regular fan of Radiesse, a filler injected into the folds around her mouth."
OK! NEWS: SANDRA BULLOCK & KEANU REEVE'S INTIMATE RENDEZVOUS
Although her rep denies Sandra has done anything to her lips or face, the friend explains that Sandra's stalled relationship with Ryan Reynolds may have had something to do with her recent overhaul. Sandra and Ryan, 35, spent time together this summer when he admiringly called Sandra "the ultimate catch, no matter what — age, particularly with her, is completely irrelevant."
However, after their relationship cooled (Sandra's rep consistently denies they had a romance), he began dating Gossip Girl actress Blake Lively, 24, and suddenly, age seemed to matter a lot.
OK! NEWS: RYAN REYNOLDS & BLAKE LIVELY HEAT UP ALL OVER THE EAST COAST
"Sandra'd never admit it, but losing Ryan to Blake has been a big blow to her ego and she is definitely panicking," says the friend. "Things didn't really work out the way she planned. She probably never imagined she'd wind up competing with the young kid from Gossip Girl!"
FOR MORE ON SANDRA'S NEW FACE, PICK UP THIS WEEK'S ISSUE OF OK! — ON SALE EVERYWHERE NOW!