NEWS
Ryan Kwanten on Meeting Sandra Bullock: "She Exudes Radiance From the Inside Out"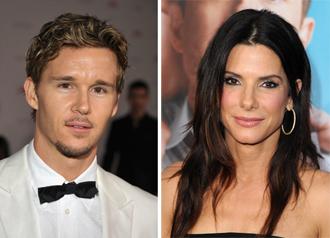 Everybody loves Sandra Bullock! Not only has the hot star been canoodling with former co-star Keanu Reeves, but the Oscar winner "exudes radiance from the inside out," according to True Blood's Ryan Kwanten!
OK! NEWS: SANDRA BULLOCK & KEANU REEVE'S INTIMATE RENDEZVOUS
OK! caught up exclusively with Ryan, where he welcomed new Mambo Brand to the U.S. with the Bon Ton Stores in NYC and he talked about meeting Sandra in L.A.
Article continues below advertisement
"I got to shake her hand. She's gorgeous. She exudes radiance from the inside out. That's what makes someone beyond beautiful, too — when their beauty goes beyond skin deep."
He noticed that just with a handshake? "I definitely did. I think that's what gives someone — when they walk into a room — makes someone look their way."
OK! NEWS: BLAKE LIVELY STEALS SANDRA BULLOCK'S MAN!
Why was he so excited about welcoming the Mambo brand to the States?
"Believe it or not, the three decades I've been alive my very first board shorts were Mambo. So it's rather ironic now that this small little surfer boy that came to the States, got a couple of jobs, gained some notoriety, suddenly they're coming to me."
The star is also busy while on hiatus from the hit HBO show. "Shooting a film called 7500, just wrapped a film called Not Suitable for Children."
For more on Sandra and Keanu, check out this week's OK! Magazine!