NEWS
Scarlett Johansson Calls Out James Franco In Women's March Speech: 'I Want My Pin Back'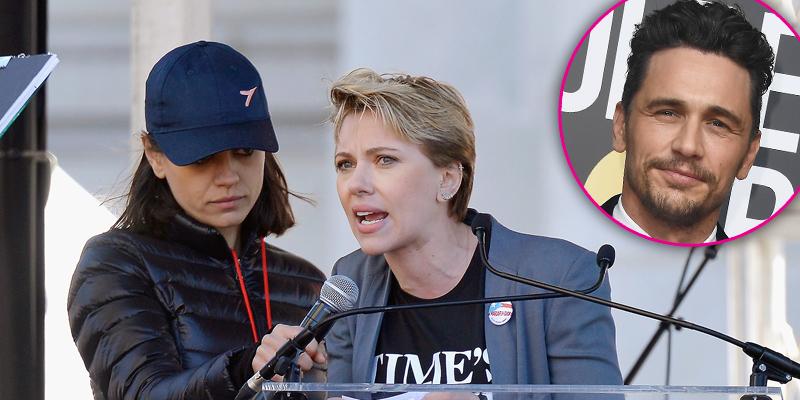 Scarlett Johansson had some choice words for James Franco while speaking at The Los Angeles Women's March on Saturday, January 20.
The 33-year-old actress, who is an inaugural Time's Up supporter, called out the actor for his support of the worldwide movement while allegedly "privately preying on people who have no power."
"In light of the recent revelations regarding abuse of power, and sexual harassment, and the question of consent versus coercion, I find myself pensive, taking time, and digging deep to understand where we are, and how we got here. My mind baffles," Scarlett began her speech.
Article continues below advertisement
"How could a person publicly stand by an organization that helps to provide support for victims of sexual assault while privately preying on people who have no power?" she added, "I want my pin back, by the way."
While Scarlett did not name James directly, a rep for the actress confirmed to Us Weekly that she was, in fact, referring to Mr. Franco.
As previously reported, a number of women on Twitter accused James of sexual harassment, hours after he attended the Golden Globe Awards wearing a Time's Up pin.
A few days later, the Los Angeles Times published an article where five women accused James of abusing his power as an acting teacher and mentor in an inappropriate/sexually exploitative manner.
James though denied the allegations on The Late Show with Stephen Colbert.
"Look, in my life I pride myself on taking responsibility for things that I have done," James told the Late Show host. "I have to do that to maintain my well being. The things that I heard that were on Twitter are not accurate. But I completely support people coming out and being able to have a voice because they didn't have a voice for so long. So I don't want to shut them down in any way."
Despite the allegations, James is still scheduled to attend the Screen Actors Guild Awards on Sunday, where he is nominated for Best Actor.
What do you think about Scarlett's comments? Sound off in the comments section!