NEWS
The Secrets of Lady Gaga's Tricked-Out Wheels Revealed!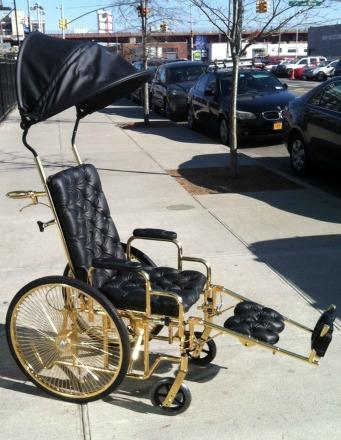 Lady Gaga looks like a million bucks—thanks to her 24-carat gold-plated wheelchair!
On March 12, photographer Terry Richardson posted a new picture of his pal, who recently had surgery, to her social media website Little Monsters.com. In it, Gaga's holding court in her new ride. And the 26-year-old was spotted in the new set of wheels the same day outside her New York City hotel.
Article continues below advertisement
"I wanted it to look like a throne," the chair's designer, Ken Borochov, tells The Daily Beast. "It was a huge undertaking."
Borochov, an Israeli jewelry designer, reveals Gaga's stylist contacted him to create the chair—and she told him to finish it within a week.
Watch: Nicki Minaj's Crazy Dress Choice
"It was made all over the United States, my assistant had to run around everywhere," Borochov explains of the wheelchair that has tufted leather, a removable canopy and almost $3,000 worth of gold-plating
Watch: Is Justin Bieber's Mom the Next 'Bachelorette'?
But the one thing it doesn't have is electrically-powered navigation. "I think it's supposed to be for the function," explains Borochov. "But the most important thing was supposed to be to make something extraordinary that is fit for a queen, which Gaga is."
And a queen never wheels herself around!
No word on if Lady Gaga will use the wheelchair to go down the aisle this summer with Taylor Kinney. As OKMagazine.com reported, Gaga's best friend, Lady Starlight, recently said in an interview that the two will get married as soon as this summer!
Do you think Lady Gaga's wheelchair is cool or a total waste of cash? Tell us in the comments section or on Twitter @OKMagazine