NEWS
See Steven Tyler's Smashed Up Face Post Fall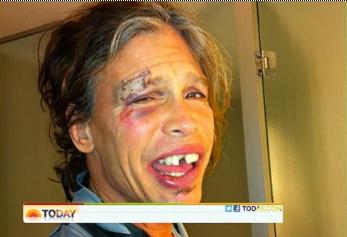 Steven Tyler had some pretty serious boo-boos after falling while on tour in Paraguay. The Aerosmith frontman lost two of his teeth and endured cuts to his face and a serious black eye after taking a tumble Tuesday.
So what exactly happened? Steven chatted with Today show host Matt Lauer about his slip — claiming that he received his battle wounds while on his way into the bathroom with a severe case of diarrhea, which he picked up from traveling.
Article continues below advertisement
OK! NEWS: STEVEN TYLER FALLS IN HOTEL SHOWER & LEAVES HOSPITAL IN GOOD CONDITION
"I went in looking like Baryshnikov," Steven said, adding, "and walked out looking like boxer Leon Spinks!"
Then Steven explained what went down.
"Just quite frankly I passed out... I fell on my face, I woke up with the water running on me, not knowing where the hell I was."
Earlier this year, Steven revealed that snorting a prescription sleeping pill caused him to fall off the stage during a concert in South Dakota in August 2009.
But he made it clear on the Today show that his fall was not an indication that he had relapsed into drug addiction.
"Being in the program I'm in, it's something we have to accept. I went public with my problems only to address them straight on — people thinking I relapsed is natural and normal."
VIDEO: WATCH NEW AMERICAN IDOL SEASON 11 PROMO!
He continued: "It still bothers me a little, but it's something I'll have to deal with the rest of my life."
Regardless of the injuries he sustained, Steven managed to get on stage Wednesday night and rock out a concert in Asunción, Paraguay.
"I wore my sunglasses for my first song, took 'em off and the crowd roared," he said. "Not only did I break my face but we broke the house record — life is beautiful, Matt!"
Watch Steven's interview with Matt on Today below.
Visit msnbc.com for breaking news, world news, and news about the economy