NEWS
Selena Gomez & Justin Bieber: "They Kind of Connect on a Different Level"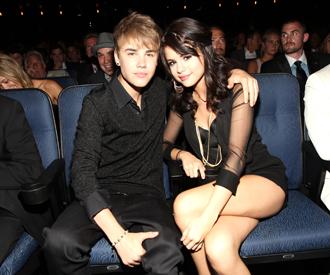 This past weekend, Justin Bieber went to visit his girlfriend, Selena Gomez, in Florida where's she's filming the movie Spring Breakers. The down-to-earth couple was busy fishing and eating at a local sports bar with her co-star Ashley Benson and Ashley's BF, Ryan Good. While they were busy having fun in the sun, OK! got to chat exclusively with their good friend Samantha Droke at the premiere of Big Time Movie in NYC.
Article continues below advertisement
Samantha is now in her own public relationship with Big Time Rush singer Carlos Pena Jr., and Selena has given her advice on how to handle the media and fan attention. "I've definitely gone to Selena for some advice, and she's been really great about it."
Samantha was also a part of the viral video for Carly Rae Jepsen's song "Call Me Maybe" that Justin put together. "We had so much; we had a lot of fun. I, like, did not expect that the response at all. It was just a video we did for fun, and it's, like, how many views? Millions of views now? Crazy."
OK! NEWS: SELENA GOMEZ DISHES: "I FEEL LIKE A GROWN UP"
Samantha even told OK! to expect to see her and good friend Ashley Tisdale in Florida to visit Selena on set. "Ashley and I were planning on going last weekend, but it didn't happen. We're hoping to go out towards the end of the shoot, so yes, I'm going to go. It will be fun."