NEWS
Seth Rogen: James Franco is Funnier than Me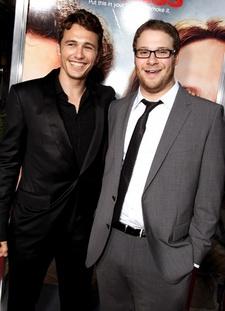 Seth Rogen tells OK! he made the ultimate sacrifice to help his former Freaks and Geeks co-star James Franco get a role in his new pot comedy Pineapple Express. He gave up his part!
"We sent him the script, and we wanted him to play Dale, the role I ultimately played, because we had written his role for me," Seth says.
Seth was apparently too impressed by his co-stars level of fame to turn down his request. "When he read it, he said something to the effect of 'I like it but I want to play the other guy.' And I thought 'damn, he's way more famous than me. We'll ultimately have to do what he wants" said Rogen.
Article continues below advertisement
Seth was more than obliged to hand over the role to James, and thinks it improved the outcome of the movie. "We switched roles, and I think it worked out great. He was 1,000 times funnier than I was."
Seth, 26, was happy to help his long-lost pal ditch his more serious work for a turn at comedy. Along with Busy Phillips, the actors appeared on the coming-of-age dramedy Freaks And Geeks that aired from 1999-2000.
Seth was glad to reconnect his friendship with James through the making of Pineapple Express. "Me and James always really got along well, and I always thought he was really funny," he says. "I was shocked that after Freaks And Geeks, he took this more dramatic direction career wise. We lost touch for a few years."
Apparently the more serious roles were not as appealing to James as Seth thought they were. "I always assumed he was really happy making Tristan and Isolde, Annapolis is another one, Fly Boys When I ran into him, he was like 'I don't like any of these movies!' and he expressed that he kind of wanted to work with us again."