NEWS
Shania Twain Reveals Voice Condition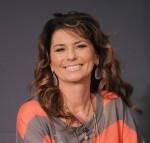 Is Shania Twain really losing her voice? She recently revealed that she is indeed losing it and is undergoing therapy treatments to not only restore her singing voice but her speech as well!
OK! VIDEO: WATCH SHANIA TWAIN TELL TODAY HER VOICE DAMAGED "MY VOCAL POWER"
Years of suppressing her voice and emotions have done major damage, as she noted to E! Online. The 45-year-old singer has dysphonia, a condition which is essentially an impairment to produce voice sounds. It started to emerge when she discovered her ex-husband, Robert "Mutt" Lange, was cheating with one of her BFFs, Marie-Anne Thiebaud.
Article continues below advertisement
OK! NEWS: SHANIA TWAIN REVEALS FAMILY ABUSE & SHOCKING DIVORCE IN NEW MEMOIR
After finding solace, friendship and eventually love in the ex-husband of Marie-Anne, and marrying Frederic Thiebaud, Shania is just now starting to pick up the vocal pieces. She revealed, "I had reached a point in my life where there was a bottleneck, physically, in my throat. Something had to give."
After figuring out what was wrong, the next step for Shania is rehabilitation. "Physical rehabilitation, voice therapy, learning how to breath again...and the singing will come."