NEWS
Shannen Doherty On DWTS Elimination: "It's Fate"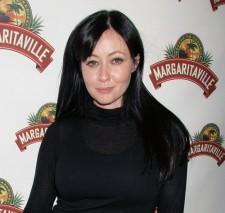 9021-oh, no! Shannen Doherty was eliminated from Dancing With the Stars on Tuesday night. And making the ouster even worse was the fact that her partner, Mark Ballas, had a season-ending knee injury that would have meant he couldn't have continued dancing with Shannen anyway.
Shannen wiped away tears after the show. But she put on a brave face for OK!, saying, "It's fate. I'm feeling okay about it. I think the most upsetting part is not being able to spend the time with Mark. Now Mark's injured and I get to play nursemaid, I guess."
Article continues below advertisement
OK! NEWS: DWTS DRAMA! KATE GOSSELIN — "WE WEREN'T COMMUNICATING!"
The former Beverly Hills 90210 star said, "I learned that I should stick with what I know. I was incredibly awkward, and I know that, but I've never claimed to be a dancer. I'm an actor. It's what I love to do so I get to go back to doing what my heart says."
The hit reality show's first elimination of the season was dramatic, as Shannen and Pamela Anderson wound up the surprising bottom two. Both of the Hollywood bad girls had performed well on Monday night, with Pam channeling Marilyn Monroe for her foxtrot for a total of 43 with pro Damian Whitewood. And Shannen and Mark earned a score of 20 for their jive. Combined with last week's 18, they got a cumulative score of 38 for the two weeks.
While others, including Kate Gosselin and Buzz Aldrin, had scored lower than the TV actresses, voting means everything and Shannen and Pam faced the red elimination night lights on Tuesday.
After Shannen got the boot, Mark informed viewers that he had injured his knee in rehearsal and an MRI revealed he would have to be out for six weeks. Producers planned to replace Mark with his dancer dad Corky Ballas (well known for his DWTS season with Cloris Leachman) for Shannen's duration on the show, but her vote off made that unnecessary.
Article continues below advertisement
OK! NEWS: SHANNEN DOHERTY DISHES ON DWTS NERVES
"I'm emotional but it's a little bit of relief — mixed with sadness to be leaving Mark," Shannen said of her loyal partner.
Although many DWTS celebrities lose weight, in her month of rehearsing and doing the show, Shannen told OK! that wasn't the case for her.
"I gained weight. Mark says it's all muscle," she said. "The truth is, if the dancing has changed my body, I should just go dance with Mark's family."
Longtime dance pro Mark explained to OK! his knee injury, which he suffered from during their Monday night dress rehearsal.
"I'm feeling all right. It's just a little bit of muscle coming off the bone issue," he said. "I'm just going to rest it. It's going to be OK. This stuff happens."
But Evan Lysacek's dance partner, Anna Trebunskaya, revealed that "it had to hurt him today because he was on crutches."
Article continues below advertisement
Meanwhile, Kate, whom many expected to leave because of her disastrous jive performance on Monday night with partner Toni Dovolani, seemed more relieved than anyone else backstage.
"It was sheer terror," Kate confided to OK! about going through her first elimination show.
"It's so nerve wracking. I was so convinced it was going to be us," Toni confirmed. "She kept asking me, 'Is it us? Is it us?' I was like, 'I don't actually know!' "
Kate said, "I was walking around thinking all the other cast members were like, 'Yep, I know it's her.' I didn't want it to be me. It's a mental game."
Judge Len Goodman told the cast that next week, the performers have to tell a story through their dance. "The song that they gave us has a really cool meaning to Kate. Expect a lot of interesting drama," Toni said.
Article continues below advertisement
Although the show televised their rehearsal tiff Monday night, Kate and Toni seemed to be getting along fine backstage on Tuesday.
"What CAN'T I improve on?," Kate said backstage at the results show. "Every vote counts for us. How can I say this nicely — we really need them! Wink, wink!"
Toni laughed, "She said it all!"
The other dancers also looked forward to next week. Ice skater Evan said that they'll perform the quickstep.
Show standout Nicole Scherzinger, partner Derek Hough by her side, said, "I think it's going to be a fun challenge for us to tell a story through the dance."
And Cheryl Burke's partner, Chad Ochocinco told OK! "With football, there's a little bit of cockiness and arrogance that comes. I've got to get it out here. I don't know when that dance bug is going to click in."