NEWS
Shia LaBeouf Missed Megan Fox in Transformers: Dark of the Moon: "I Love Megan"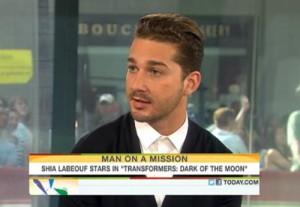 Shia LaBeouf's character in Transformers: Dark of the Moon has moved on from Megan Fox to new girlfriend, Rosie Huntington-Whiteley, but Shia admits he did miss Megan.
OK! NEWS: SHIA LABEOUF HOOKED UP WITH MEGAN FOX — "IT WAS WHAT IT WAS"
"Your character Sam Witwicky, at this point, he's just finished college and he can't get a job, but he can get a smashing girlfriend. Oh, my gosh," Ann Curry says on Today Show. "Lucky, lucky Sam. Lucky Shia. You want to tell us about her?"
Article continues below advertisement
"Well, she's incredible," Shia said. "Yeah, Rosie had a tough spot to jump into. She's so poised and she really was like a cheerleader for all of us. She is, of course, beautiful, but she's also really smart and really good at her gig. I mean, she's good in the movie, really good in the movie."
"And you must have been pretty happy when you saw her cast, I would guess just as a guy, as a young man," Ann said.
"Sure, sure. Yes," he said. "For all those reasons, of course."
A new interview with Shia in Details magazine hit the Web today, in which Shia "nods affirmatively" when asked if he hooked up with Megan.
OK! NEWS: TRANSFORMERS STARS DISH ABOUT LIP-LOCKS
Now, Shia admits to Today that he missed working with her on the third film.
"Meantime, one name that is noticeably absent... is Megan Fox," Ann explained. "And with all the stuff aside about why that was, did you miss her?"
Article continues below advertisement
"Yeah, she was a friend of mine, you know. I love Megan," Shia said. "We spent four years together and these are hard-fought movies to make, you really get battle-tested. But, I think it was beneficial to the storyline because what happened in the second movie was the two characters became synonymous and Sam became less heroic. There is no damsel-in-distress anymore and there is no one to be heroic for — especially when she is vetted like he is. So bringing a new fresh set of eyes actually selfishly benefited my character."