NEWS
Should You Watch: Beauty and the Geek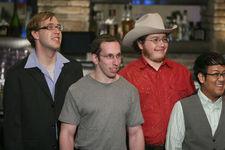 I kinda dig the transformation process that happens for two entirely different types of personalities on Beauty and the Geek. Pretty but not-too-bright gals get a chance to tap into their brainy side; nerdy guys find out they are beautiful, inside and out. So I was bummed to hear this season, B&G is mixing it up and having the beauties compete against the geeks. Doesn't that kind of kill the whole concept bringing diverse groups together in harmonious, eye-opening bliss?
Article continues below advertisement
I'm not the only one who is upset by the news. One geek aptly says that he could have stayed home for an experience like this, while Beauty Leticia is genuinely upset she won't be able to teach a geek new things, like dirt bike riding (this is one beauty who actually seems to have a head on her shoulders).
Okay, some of the geeks aren't as geeky as they appear to be, and as I mentioned above, at least one beauty knows what E=MC2 stands for. So maybe it's a fair fight when the teams are given their first challenge, to get the most digits from strangers. Of course the geeks freak, feeling the beauties have an unfair advantage. But the playing field is leveled in an unusual way. As a woman, I was pretty offended by what the show thinks defines a woman's attractiveness. At the end of the challenge, the losing team members individually battle for their right to stay in the game in a new lightning-paced elimination round.
Quibbles arise within one group, which is kind of interesting to watch. And just because they are playing against each other doesn't mean a geek and beauty can't find love (something about being on opposite sides always make the attraction hotter). But for now, I think this version of the show misses the mark. I've only seen the first episode, but I'm hoping that the beauty versus geek concept is abandoned halfway through the season and returns to the B&G pairs we know and love.
Beauty and the Geek, season five, premieres Tuesday, March 11 at 8 p.m. on The CW.