NEWS
Simon Cowell Has Small Penis Syndrome Says Sharon Osbourne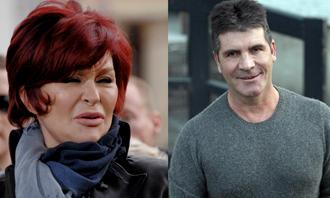 Word to the wise: don't cross Sharon Osbourne.
OK! NEWS: KELLY AND SHARON DISH ABOUT GRAY HAIR AND BABIES
Former boss Simon Cowell (the two worked together for four years when she was a judge on the UK version of The X Factor) had some nasty things to say about her in his upcoming memoir, Sweet Revenge: The Intimate Life Of Simon Cowell.
Never at a loss for a snappy comeback, Sharon fired back on The Talk Tuesday:
Article continues below advertisement
"He's wealthy, he's powerful, he's creative, he's got everything... but you can't buy the goods," at which she pointed down to her crotch.
OK! NEWS: SIMON COWELL TAKING A BREAK FROM FIANCE MEZHGAN HUSSAINY. WILL SIMON EVER GET MARRIED?
Small penis issues aside, why does Sharon think Simon harbors any animosity? Easy, she says she quit his show.
"He likes to glamorize, he loves attention, he loves all the publicity he's getting, and the thing is, nobody leaves Simon... he fires you," she said. "So when you leave of your own accord... he doesn't like that. Because he's the power, he's the big fish, so he has to fire you."
We wonder if these issues will be broached on the current season of America's Got Talent... yet another Simon vehicle where Sharon is once again a judge.
Stay tuned!