NEWS
Simon Monjack's Cause of Death the Same as Wife Brittany Murphy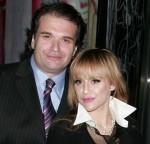 A new twist has emerged in the tragic story of Brittany Murphy and her husband Simon Monjack — his autopsy results reveal the married couple share the same cause of death.
The autopsy results for Brittany's screenwriter widower reveal that he died of acute pneumonia and severe anemia, just as his wife did six months earlier, E! News reports.
OK! NEWS: SIMON MONJACK HAD TWO SECRET CHILDREN
Los Angeles Assistant Chief Coroner Ed Winter confirmed that while Simon had legal medications in his system, he did not die from a prescription drug overdose or multiple drug intoxication, while drugs were listed as a contributing factor in Brittany's death.
Article continues below advertisement
The medical examiner ruled out heart disease as a contributing factor even though Simon had reportedly experienced heart problems before his death on May 23 at the home he shared with Brittany and her mother Sharon Murphy, who found both their bodies.
OK! NEWS: SIMON MONJACK, BRITTANY MURPHY'S HUSBAND FOUND DEAD
Simon was buried next to Brittany, who died on Dec. 20, at Los Angeles' Forest Lawn Memorial Park.
Winter told E! News that his office will conduct one more test on Simon at the request of his family, but did not disclose any details as to what that might be.
OK! NEWS: BRITTANY MURPHY'S EXTENSIVE PRESCRIPTION LIST
The official autopsy report won't be made available for another two weeks.
In response to the news, Sharon said that she was relieved that "the media speculation can stop" regarding her son-in-law's untimely death.
OK! NEWS: SIMON MONJACK DENIES CLAIMS OF BRITTANY MURPHY'S MISSING VICODIN
"As I was sure of, just like my daughter Brittany there was no kind of drug overdose," she said in a statement released by publicist Roger Neal.
"I am calling on the media to stop the reckless innuendos, that my daughter and son-in-law misused any kind of prescription medications. Thank you to the thousands of people who have sent letters and emails letting me know I am in their thoughts and prayers. I am getting stronger every day."