NEWS
Simon Says...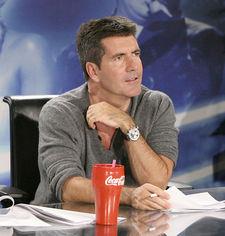 Jason Castro did the other contestants a favor last night by, well, sucking. Simon Cowell told David Archuleta he could have whistled his song and come off sounding better than that. And Syesha Mercado did herself a favor by crying.
Simon hated the dreadlocked Texan's I Shot The Sheriff so much he seemed genuinely mad about it, and when the judge warned him to "stand back" for what was coming, Jason looked like he was standing in the principal's office.
Article continues below advertisement
"That was utterly atrocious," he spat. "Sorry -- that is a song you do not touch.
"The arrangement was atrocious the performing and the singing was as bad as I ever heard. Honestly this was a first round audition massacre. I'll give you some advice, don't do Bob Marley."
He thought David Cook's Hungry Like a Wolf was "a little bit copycat," but good enough to get him through to next week.
The Englishman wasn't as enthusiastic about Syesha's Proud Mary as the other judges. "I'm sorry to put a slight damper on things. For me I thought it was just a bad shrieky version. It was a bad impersonation of Tina Turner."
And when she protested, "Simon I'm just trying to have fun," he shot back, "Good. I didn't."
But when she burst into tears after her stab at A Change Is Gonna Come, even Simon softened a little and threw a few kind words her way.
After Jason turned in a disastrous Tambourine Man (at least, the bits he could remember), Simon's only had one piece of advice. "I'd pack your suitcase."