NEWS
Small Bites for the Perfect Holiday Party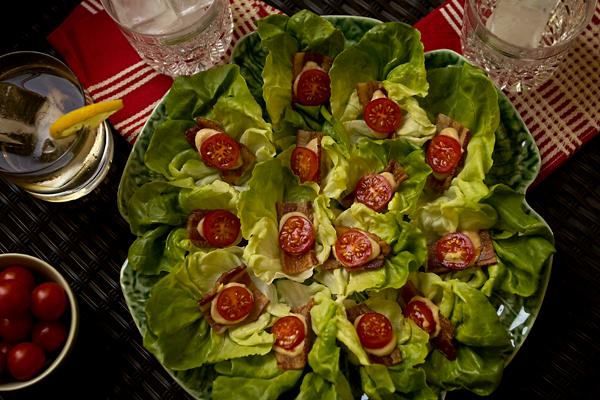 If you want to shine as the hostess with the mostest at your next holiday shindig, throw an easy cocktail party with a few crowd-pleasing small bites that are simple to prepare but big on flavor. You'll have plenty of time to spend with your guests instead of slaving away in the kitchen and no one will ever know what a breeze it was to prep.
OK! News: Turn Butternut Squash Upside Down with This Great Couscous Salad Recipe
Article continues below advertisement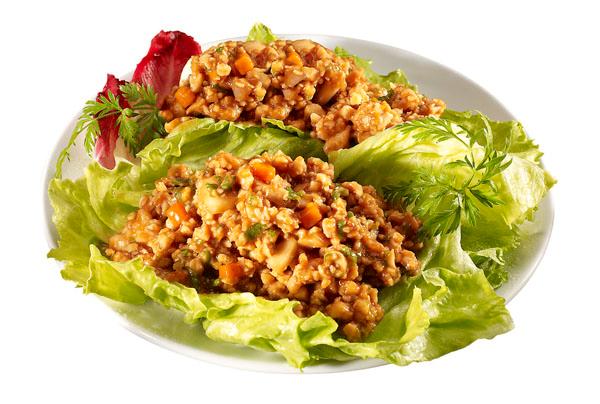 Lettuce Wraps
Ingredients
1 lb ground chicken, turkey or pork
8 oz. can water chestnuts, drained and chopped (1 cup of celery can also be substituted)
4 green onions, chopped
¼ cup roasted peanuts, chopped
1 carrot, chopped
1 head lettuce, iceberg or butter, separated into rounds
2 tbsp cooking oil
1 pouch Lee Kum Kee Sauce for Lettuce Wrap
Directions
1. Heat oil over high heat in a large frying pan or wok.
2. Add chicken, turkey or pork and stir-fry for 3 minutes or until browned. Add all vegetables, 1/2 of the peanuts, and water chestnuts. Stir-fry for an additional 2 minutes.
3. Add ¾ pouch of Lee Kum Kee Sauce for Lettuce Wrap. Bring to simmer and add green onions and the remaining peanuts. Scoop the mixture into a lettuce cup. Drizzle the remaining sauce on top.
OK! News: Celebrate Pomegranate Season With This Delish Dish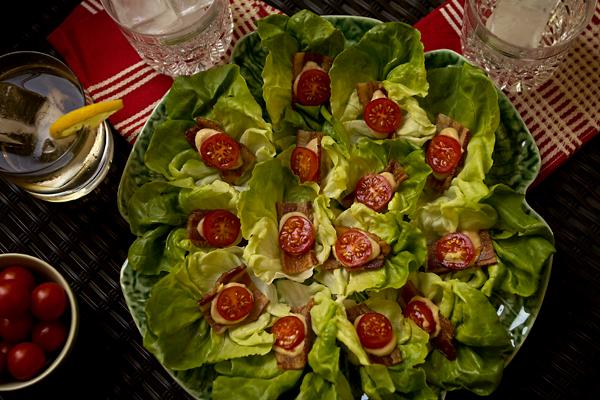 Gluten-Free BLT Bites
7-8 slices bacon, thick cut
¼ cup Sabra® Classic Hummus
¾ teaspoon real maple syrup, Grade B preferred
8-10 cherry tomatoes
Butterhead, Boston or Bibb lettuce leaves—use the smaller inner leaves for this recipe; most likely you'll need 2 or 3 heads to get 20 leaves
Directions
Heat oven to 400 degrees F.
Line a baking sheet with foil and place a wire baking rack on top
Lay bacon slices on the rack and place in oven. Bake for 30 minutes, flipping slices at the 15-minute mark; set aside and let cool. Once cooled, cut into 1-1/2-inch pieces; set aside
In a small bowl, add hummus and maple syrup; mix well and set aside
Slice a small amount off the top of each cherry tomato and discard; slice remaining tomato into 3 slices (about ¼-inch thick); set aside
Remove outer lettuce leaves and save for another use; remove 20 of the inside leaves, wash and spin dry
Place about 1/8 teaspoon hummus onto the center of a bacon piece; flip it over, hummus side down, onto a lettuce leaf (this acts as 'mayo' and keeps the bacon in place)
Add about ¼ to ½-teaspoon hummus to the center on the top side of the bacon; add tomato slice and press gently
Place on a serving platter and repeat the assembly process until finished

OK! News: Feast Your Eyes on the Ultimate Foodie Gift Guide

Oregano Feta Grilled Flatbread

Ingredients

1 pkg (16 oz) whole wheat pizza dough

2 tbsp olive oil

2 tbsp Gourmet Garden Garlic

2 tbsp Gourmet Garden Oregano

3.5 oz reduced fat feta cheese

1 red bell pepper roasted, peeled, seeded and thinly sliced (or substitute for jarred roasted bell pepper)

1 yellow bell pepper roasted, peeled, seeded and thinly sliced (or substitute jarred roated bell pepper)

Directions

Prepare dough according to package directions. Divide into 2 pieces, roll out on a lightly floured surface.
While the dough is resting, prepare an indoor or outdoor grill.
Mix olive oil, Gourmet Garden Garlic, Gourmet Garden Oregano, feta cheese and red bell peppers in a bowl, set aside.
Turn the grill heat to low, lightly brush one side of dough with olive oil and put on the grill. Grill for 3 – 4 minutes or until crispy on the bottom. Turn the dough over, top each dough with the Feta pepper mixture; grill for 3-4 minutes or until crispy on the bottom. Remove from the grill. Slice and serve.

What's your go-to party food? Tell us in the comments or tweet @OKMagazine.