NEWS
Healthy Eats: A Great Use for Leftover Butternut Squash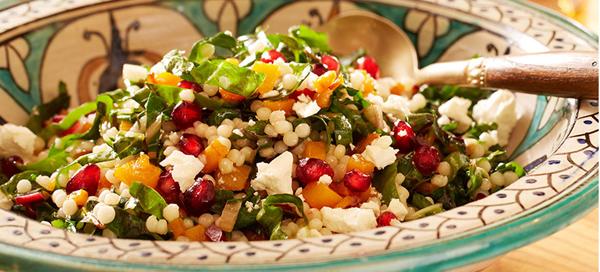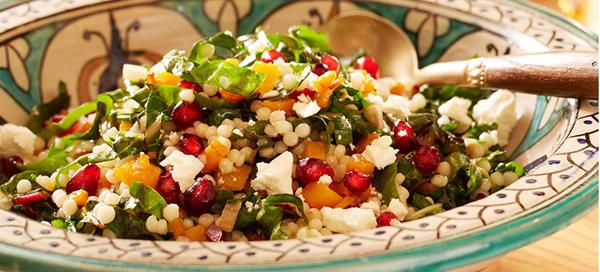 There are times when I think leftovers are the best part of Thanksgiving dinner, but if you find yourself with a container of roasted butternut squash and nary an idea of what to do with it, we've found a solution! Chef Molly McCook, co-owner and Executive Chef at Ellerbe Fine Foods in Dallas-Fort Worth, Texas provided a Roasted Butternut Squash Salad with Pomegranate Vinaigrette recipe for a POM Wonderful cookbook and the results are out of this world.
Article continues below advertisement
Salad
1/2 cup arils from POM Wonderful Pomegranates or 1/2 cup POM POMS Fresh Arils
1 cup Israeli Couscous, cooked according to package
1-1/2 cups butternut squash, peeled and medium-diced
1 tablespoon extra virgin olive oil
1 cup Swiss chard, cut into ribbons
1 tablespoon vegetable oil
1 teaspoon kosher salt
pinch of black pepper
3 oz. feta cheese, crumbled
Directions
Vinaigrette: 1. Prepare fresh pomegranate arils, if necessary.* 2. Place the garlic and salt in a mortar and pound into a paste with the pestle. 3. Add 1/2 cup of arils to the mortar and gently crush, releasing the juice. 4. Transfer the contents to a medium size bowl and add the champagne vinegar and black pepper. 5. Slowly drizzle the oil into the mixture while continually whisking to form the vinaigrette.
Article continues below advertisement
Salad: 1. Preheat oven to 400°F. 2. Toss the butternut squash with the extra-virgin olive oil and spread onto a cookie sheet. 3. Place in the oven and roast for approximately 15 minutes or until fork tender. 4. Remove the squash from the oven and set aside.
To Finish: 1. Heat a medium skillet with the vegetable oil over high heat. Once the pan is hot, add the Israeli couscous, Swiss chard and butternut squash. 2. Sauté for approximately 3 minutes to wilt the greens and heat the couscous and squash. 3. Once the mixture is warm, transfer to the vinaigrette bowl and gently toss. 4. Season the salad with the chopped parsley, kosher salt and black pepper. 5. Transfer the salad to a serving platter and sprinkle with the feta cheese and the remaining 1/2 cup of arils.
What's your favorite use of Thanksgiving leftovers? Tell us in the comments or tweet @OKMagazine.