NEWS
'Smash' Recap: Cheers to Hell on Earth!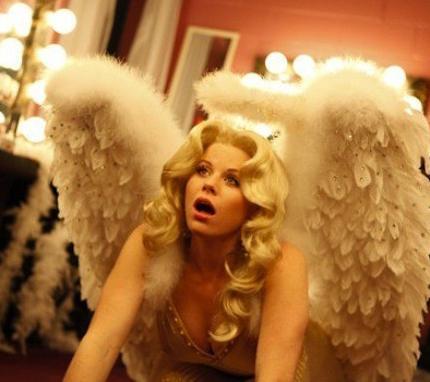 Greetings, Smashketeers! Let's get right to Hell on Earth.
Ivy (Megan Hilty) and Karen (Katharine McPhee) literally run into each other at a commercial audition, which Ivy is late for because she got stuck on the subway. We can't help but sympathize. Getting stuck on the subway is tremendously annoying, and it only happens when you have to be somewhere important, and are already kind of running late anyway. Karen tells her to break a leg, but Ivy never gets the chance. The door slams in her face — but not before she hears a casting director say, "She was perfect!" regarding Karen's audition. See? Karen steals everything from Ivy, everything! Shortly thereafter, Karen finds out she booked the commercial, which is a national spot for orange juice. Well, that was fast. And, not only does she book it about a half hour after auditioning, she shoots it the very next day. Or at least, that is how it seems. This show really needs to work on its timeline for next season (Did you hear? Smash was renewed!). Anyway, the commercial requires Karen to dress in some kind of green body sleeve and prance around a green room. Her line is something like, "Start your day off right with such and such orange juice!" She says it way too fast, and we're not sure how she booked this job.
Article continues below advertisement
OK! NEWS: SMASH RECAP: ONE REPUBLIC'S RYAN TEDDER GUEST STARS IN THE COUP
Over in Doomed Romance Land, Tom (Christian Borle) agrees to attend a Republican fundraiser with John (Neal Bledsoe) because he's trying to be a good boyfriend. We can appreciate this. He doesn't even back out when he discovers that John is a Republican! (So... he's ok with John being a Republican, but he can't stand that Sam likes basketball?)
Speaking of Sam (Leslie Odom, Jr.) he was the real reason Ivy was late to her audition; the two were having breakfast (we guess, since Ivy missed her 10 a.m. audition) and he delayed her with a lecture about her new role as a pill popper. He had to, though... the camera panned right to them and it was incredibly obvious, so if he didn't say something, he would be a really bad friend. Ivy explains: "When I started the prednisone I couldn't sleep so my doctor to put me on Ambien. Plus the klonopin for the anxiety. But then I was totally doped up so he put me on the lorazepam and… I don't know, some new stuff." To be fair, we couldn't meet anyone for breakfast without a little pick-me-up, either.
Article continues below advertisement
Since we can't avoid the subject of Ellis (Jaime Ceparo) any longer: he is with Eileen (Anjelica Huston), Derek (Jack Davenport), Julia (Debra Messing) and Tom at Eileen's office. Ellis is reading a list: "Anna Paquin, Chelsea Wood (?), Anna Faris, Rebecca Duvall, Kate Winslet..." We're not sure if this is a list of potential Marilyns, of people who turned down Marilyn, of people Ellis plans to ruin, or whatever. We have a problem with this list. Who sees Anna Faris and Kate Winslet being up for the same part, ever? Like most of the meetings that involve this set of people, things go nowhere. Except! Derek tells Eileen that he isn't committed to Marilyn until he sees a finished script. Spoiler Alert! Derek commits to the show before the end of this episode. Eileen reminds Tom and Julia that they need a title. Later, Ellis enlists the help of Eileen's old assistant to get some contacts for the aforementioned stars (because he can't do anything without being underhanded). He decides to pursue Rebecca Duvall, and actually meets with her agent. The entire thing is so implausible, and it isn't even a musical sequence.
That evening (we think) Ivy's out with her buddies. She finds out that Karen booked the commercial, has a tantrum and leaves. There's one in every crowd. She goes home, where Derek is sitting around. Did anyone else think that was weird? Ivy discovers she has Karen's cheap sunglasses and chucks them in the garbage. Then she pops a pill. Way to be a mean, label-obsessed pill-popper! At almost the very same moment, Karen discovers she has Ivy's Marc Jacobs sunglasses and vows to return them to her at any cost.
Article continues below advertisement
Next, we're backstage at Heaven on Earth (the show Ivy came crawling back to) and Ivy's in the dressing room getting all Valley of the Dolls on us. She stares at her pills, then at herself, then at the pills... sigh. Shortly thereafter, the stage manager is frantically looking for Ivy because she's supposed to be ready for her entrance. She's face-down on the floor (We think... it was a weird angle). His knocking wakes her up and she exits, but not before throwing a big goofy laugh right in his face. On stage, she's off-count, facing the wrong way, sticking her tongue out, laughing... she finally face-plants. Suddenly it's not so funny anymore. She races away, right past... Karen! Who saw the whole thing because she picked that moment to return Ivy's sunglasses.
OK! NEWS: SMASH RECAP: WORKSHOP WOES AS BERNADETTE PETERS SHOWS UP AS IVY'S MOTHER!
Karen takes off after her, and the two have a little showdown. Ivy tells Karen she's not special, and she wasn't Marilyn because she didn't put enough on the line. Karen says, "You're right, I didn't sleep with Derek. And it's not because he didn't ask. You weren't the first choice." She then immediately apologizes and Ivy scoffs — her mother has said worse to her over dinner. Then she heads to a liquor store and somehow manages to get Karen to buy her a bottle of something. Really?! They end up getting drunk together and dance in the middle of Times Square, singing Rihanna's "Cheers." We're not making this up. Oh, and all this while Ivy is wearing her poor-man's Victoria's Secret Angels costume. She couldn't even take the halo off? And how was she not cold? Karen was wearing a hideous turtleneck under a hideous cardigan under a hideous coat. We know, because she took off the coat in what was definitely the worst striptease of all time. Anyway, they might have bonded. We're not sure because right before Ivy passed out she told Karen that they aren't BFFs. We would have liked the scene a lot more had it not been for the fact that Ivy had just taken so many pills she momentarily passed out, and then you know, refreshed herself with some hard liquor. Even Leo isn't dumb enough to do that, and he doesn't know where the grass is.
Article continues below advertisement
Speaking of Leo (Emory Cohen)... his life is falling apart. Frank (Brian d'Arcy James) found one of Julia's songs about meeting on the Brooklyn Bridge, and somehow knew, instantly, that she was having an affair with Michael (Will Chase). We're not sure how he put that together, but we liked how he was creepily sitting at the piano with his back to her when she came home, singing softly about how his wife cheated on him and it was oh-so-romantic. We also like how he yelled "Liar!" at her and wouldn't let her get away with it by saying it was "nothing." And we liked how he then tracked down Michael and punched him right in the face. Michael Not-So-Swift let it slip that their dalliance wasn't a one-time thing. Frank went home, packed his bags, and left to find a place where there was more room for the trophy we sent that says "Our New Favorite Person."
Since she's always inspired by her miserable life, Julia finally settles on a name for the show: Bombshell. It took nine episodes to come up with that?