NEWS
'Smash' Recap: Tech Trouble With Uma Thurman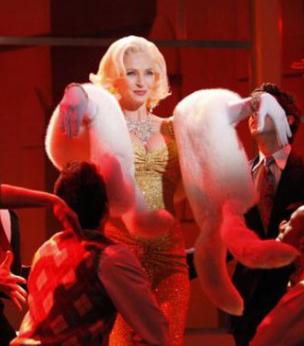 For those of you who were not sure, tech rehearsal is when all the technical elements of a show are worked out: the lights, the sound cues, set changes, etc. It is not when you introduce new songs, eat cake and casually tell the gal you're sleeping with that you love her.
OK! NEWS: SMASH RECAP: UMA THURMAN AND KATHARINE MCPHEE LOVE BAD PUBLICITY
Now that that's out of the way, let's get into this week's Smash. Everyone gathers at Grand Central, because it is the most picturesque place from which to depart NYC. They are on their way to Boston. We're not sure why Karen (Katharine McPhee) is gazing around in wonderment, though. Hasn't she lived here for a while, now? We're even less sure why everyone gets on a Metro North train, which does not go to Boston. Smash is so stupid.
Article continues below advertisement
Before everything really gets going, Derek (Jack Davenport) tells Ivy (Megan Hilty) that he loves her. But he says it in a very casual way, the way you might say it to a new jacket — except with less passion. Still, Ivy is so obviously like, "What?! What?!" We aren't sure why Derek says this, because 1) He does not love Ivy and 2) he knows this will drive her insane, and 3) he will sleep with Rebecca (Uma Thurman) by the episode's end (while Ivy and Ellis Jaime Ceparo listen outside the door. Ew.) Well, it was Derek's birthday. Ellis should have broken into his own version of "Birthday Sex" by Jeremih, here. We feel shortchanged.
The Karen and Dev (Raza Jaffrey) storyline is also unrequited love. After neglecting to get busy with RJ, Dev rushes to Boston and pops in on the tech rehearsal with flowers. Sigh. Karen does not appreciate Dev barging in on her while she's working, and rather than remind her of how she does that to him every day, he's just, like, "I got you roses, please take them, I love you." Sigh.
Article continues below advertisement
That night, they go out to dinner and Dev pops the question. You know, the question. "Will you marry me?" he says. "I'm in tech," Karen says. Burn! We couldn't help feeling bad for Dev, though, especially when he got that hopeful smile on his face and was, like, "Is that the same as yes?" Karen runs back to the hotel and goes to Jessica's (Savannah Wise) room to talk, but Jessica is having a party she didn't invite Karen to. Still, Karen sits down and then they decide to have a sing-off! Because every good party has a sing-off (and Pictionary). Ivy, who has just caught her director, sort-of boyfriend, not-so-secret lover doing the nasty with Rebecca, sings Mary J. Blige's "I'm Goin' Down." And it's awesome, by the way.
Karen doesn't even try to retaliate. Plus, Dev shows up and is upset that after she rejected his proposal she went to a party. Next thing you know, they are out in the rain night, fighting. Listen, Smash. We get that the cold, rainy darkness is a way better backdrop for a lover's quarrel, but it makes no sense at all that they didn't just go to one of their rooms. It is pretty clear the cast is staying in a big hotel, so this means Karen and Dev, fighting, got into the elevator, descended maybe 20 floors, crossed a large lobby, thanked a doorman for holding open the door, and then positioned themselves on the sidewalk to argue.
Article continues below advertisement
Also, the guy who is playing Joe DiMaggio got a pilot, so he quits. Everyone decides they need Michael Swift back. Everyone except Julia (Debra Messing), who isn't even at tech because she's apologizing to DeFavorited Frank for sleeping around. Eileen (Anjelica Huston) awesomely goes to Julia's to tell her everyone is on board with Michael coming back, and she's going to have to deal. We appreciate Julia wanting to keep her family intact, but where was this passion before? Should have kept it in your pants, J. This is business.
Sam (Leslie Odom Jr.) and Tom (Christian Borle) go to dinner at Sam's parents' house, since they convienently live in Boston. We think it is way too early for such a thing, but then again, we don't know how long it has been since the last episode. Leo says Julia and Frank have been back together a week, but there's no mention of Karen's solo being taken away from her, which we think would still be kind of a fresh wound a week later. Not to mention... there is no way Bombshell could possibly be in tech already, but whatever. Smash takes place in a parallel universe where the Metro North goes to Boston, Broadway shows come together in weeks and women do their hair and makeup before breakfast but can't flip a pancake.
Article continues below advertisement
Anyway. Sam's family seems nice enough. His dad doesn't approve of his career choice, but that's to be expected. Tom says Sam is "his best self," meaning the best version of Tom, which sounds sweet at first but is actually kind of weird.
In the end, we are left with Dev and Ivy at a bar (we will pretend it is definitely the hotel bar, for the sake of plausability). They introduce themselves, and we're sure they know each other; they are just trying to hurt Karen. Dev buys her a drink, and we already know by the previews that they sleep together.
Some final thoughts:
-Rebecca's hair looked like crap for 'History Is Made at Night'
-Sam is super cute in a newsboy hat
-What was with Ellis acknowledging the fact that he's an eavesdropping sneak?
-Is Derek sleeping with Rebecca to help her get into character? Because that's what it looks like. Now that's a devoted director. And gross.