NEWS
'Smash' Recap: Uma Thurman and Katharine McPhee Love Bad 'Publicity'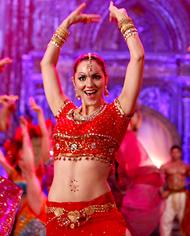 Is there such a thing as bad publicity? We don't know, but there is such a thing as a boring episode of Smash.
Things you need to know about this episode in order to watch the next episode: Julia (Debra Messing) and Favorited Frank (Brian d'Arcy James) might find their way back to each other because of their annoying son Leo (Emory Cohen); Karen (Katharine McPhee) and Dev (Raza Jaffrey) might break up due to Karen's obsession with the limelight; Rebecca (Uma Thurman) is most definitely pretending to be Karen's friend for her own personal gain; Ivy (Megan Hilty) now has a solo in Bombshell.
Article continues below advertisement
We really think that's about it. And, all written down, it looks like a pretty significant amount of drama, but with the exception of Ivy's new solo, all of this stuff was established at the very beginning of the hour and then beat into our heads for the rest of the time.
OK! NEWS: SMASH RECAP: UMA THURMAN IS THE MOVIE STAR
Things that you endured if you sat through the entire ep:
Derek (Jack Davenport) staring wistfully at Karen when he talks to her about anything Bombshell-related. We get that Derek wants Karen to be Marilyn, okay Smash? Stop making him talk to her like he is a nerdy high school kid trying to ask his best girl friend to the prom. At least with that scenario, there is something at stake. What changes if Derek tells Karen he wishes he could give her the lead but he can't? Right, nothing. Except Ivy might get mad, but she's already mad, so who cares? This useless scene opens the episode.
Next: Rebecca asks Karen to hang out with her. Even though they have never spoken before and Rebecca is like 15 years older than everyone in Karen's posse (sorry, Uma), Karen doesn't think there is anything weird about this. They hit the town, and Rebecca makes Karen sing and tells her she's a star. Was anyone else annoyed by the scene of Karen singing at that bar or wherever they were? Everyone was paying attention, just because she was introduced by a "movie star." Nobody's texting, nobody's making out, nobody's checking their drinks for roofies. They are all just basking in the beauty that is Karen's voice. We barf on your unrealistic concert scene. Rebecca tells her agent that she's just checking out the competition.
Article continues below advertisement
Later, Derek and Tom (Christian Borle) are fighting in the rehearsal hall while the whole company listens outside. They are fighting about the same old thing, having their same old power struggle. We already know Derek and Tom butt heads — another useless scene.
Derek goes to Eileen's (Anjelica Huston) to complain. Not only is this scene also useless, it is ridiculous, because our old pal Ellis (Jaime Cepero) is revealed to be standing there as soon as Derek moves aside, as if they wouldn't be aware that another human body just walked into the room. These Ellis reveals are making us hate Ellis a lot, maybe more than he deserves to be hated. If your boss was having a heated discussion with someone as you came in to give her a message would you:
A) Turn around and come back later
B) Step all the way into the room and stand there quietly while wearing a cartoonish evil grin
If you chose A, congratulations! You're everybody in the world but Ellis.
OK! NEWS: SMASH RECAP: KATHARINE MCPHEE'S KAREN IS THE UNDERSTUDY FOR UMA THURMAN
A new song, "Second-Hand Baby Grande" is introduced at rehearsal. Rebeccca suggests that Karen sing it, as a younger version of Marilyn (because she can't handle ballads and she's setting Karen up for something). Karen is thrilled, but the song is ripped away when she isn't there to rehearse it (because Ellis told her Julia had the flu, and she could go home). The song is now Ivy's, but Karen doesn't know. Rebecca suggests she sing the song instead, but there is no resolution to that yet.
Article continues below advertisement
Julia was actually home dealing with the fact that Leo ran away. In the end, Leo was at his stoner friend's house and he comes home and apologizes. Julia and Favorited Frank (who is now in danger of being defavorited) seem to bond over their worry about him. Tom is far too concerned about all this, crying and telling Sam that Leo is missing, etc. Sorry, we didn't buy that he would be that distraught.
Best storyline of the night: Eileen takes Nick (Thorsten Kaye) to an art show! They run into Eileen's ex-husband Jerry, who is clinging desperately to his youth and a tall blonde. It is the first time we really see Nick in Eileen's world, socializing with snooty, aging art-lovers. We learned that Nick was not going to pretend to be someone else when he told someone that he felt "bored" by the paintings he saw, and we learned that Eileen was going to make no apologies for Nick. And, we loved that Eileen ditched the event because she wasn't having fun. Sure, Jerry made her uncomfortable, but when she left we got the sense that she did so because she decided all this wasn't worth her time. Afterward, she and Nick went back to his apartment, where we saw a more vulnerable side to Eileen. On why she fell in love with Jerry: "I guess when you're young, you think that strength is going to protect you, not turn against you." Loved this! And then Nick informed her she was "trading up" and we got another kiss. Hooray!
Article continues below advertisement
Finally, (and we wish we didn't have to mention it): the Bollywood number. Oh, God, that Bollywood number. First, we will say that Raza seemed to have fun with it and that made maybe the first three or four seconds fun to watch. But the whole thing was such ridiculous nonsense — nothing could have saved it. So, Karen, Dev and Rebecca are having dinner at an Indian restaurant. Rebecca offensively mocks Indian accents and speak to the waiter like... he... is... stupid.... Dev has the patience of a saint, until Rebecca suggests that he is going to get in the way of Karen's success. While they bicker, Karen watches a Bollywood movie that's playing on a TV conveniently right in front of their table. Then she gets that dreamy-eyed look and we are supposed to believe that to tune out the fighting, Karen fantasizes about everyone she knows (and even some we are pretty sure she doesn't!) being in a Bollywood movie.
Smash has awkwardly inserted musical numbers before (oh, hi, Ivy doing a bad music video in her bedroom) but this one really takes the cake. We understand that this is one of the show's biggest challenges, but frankly, they have to do better.
The only other good thing to come out of this episode was that Rebecca let Ellis know she is allergic to peanuts, so maybe that means she will be killed off soon, and he will end up in jail for the murder, never to be heard from again.
What did you think, Smashketeers?