NEWS
'Smash' Recap: Uma Thurman Is 'The Movie Star'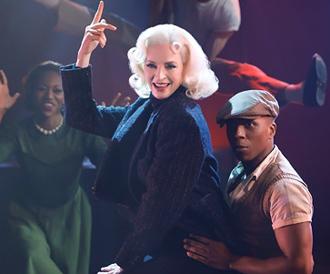 We begin with Rebecca Duvall's (Uma Thurman) first rehearsal. Everyone gathers 'round to see what she can do. Karen (Katharine McPhee) is especially excited, and she wore lipstick and a nicer outfit, according to her pals. Were we the only ones who couldn't tell the difference between today's Karen and every other day's Karen?
Rebecca launches into "Let Me Be Your Star." It's not just that the great movie star can't sing, it's her cheap Marilyn Monroe impersonation, the awkward sex kitten-ess of it all. Also, Ellis (Jaime Cepero) is wearing a great "WTF" expression throughout, which we much prefer to the evil grin he wears while eavesdropping.
Article continues below advertisement
OK! NEWS: SMASH RECAP: KATHARINE MCPHEE'S KAREN IS THE UNDERSTUDY FOR UMA THURMAN
Eileen (Anjelica Huston), Derek (Jack Davenport), Julia (Debra Messing) and Tom (Christian Borle) have a strategy session. Eileen is determined to keep Rebecca due to her ability to sell tickets. Derek uses Rebecca's lack of ability to get Ivy (Megan Hilty) back in the chorus. He says they need someone as a back-up. Isn't Karen supposed to be the understudy? "The Cartwright girl is too green!" Derek says, reading our minds. Tom, who is supposed to be one of Ivy's besties, barely jumps to her defense.
Next rehearsal, Ivy's back! The only one who seems genuinely happy to see her is Sam (Leslie Odom Jr.).
While Rebecca rehearses, Karen tells Ivy that Rebecca is "beautiful and famous, and I wish I had her life." This is foreshadowing in the form of a hammer. We thought Karen wanted to be a working actor. We didn't know she was after fame — why didn't she just cut a demo with that music producer? This makes us like her less.
Article continues below advertisement
Derek tells Karen that they won't be needing her anymore for Marilyn. Then he says that what he actually meant was that most of his time will be taken up with Rebecca. Um, that isn't the same thing at all, Derek. It doesn't matter though, because soon we're too busy rolling our eyes at the inane musical interlude that is Derek's "fantasy." We phrase it that way because we're not sure that's what it is, and as far as fantasies go, this is pretty weak. Derek would fantasize about something way sexier. All of a sudden, he sees Karen as Marilyn, begging to differ about how much she is needed. We think this is Smash's way of showing us that deep down, Derek thinks Karen is the best choice for Marilyn. Oh and they share an almost-kiss. Barf.
After rehearsal, Karen calls Dev (Raza Jaffrey) and he hurries her off the phone without returning her "love you." Dun dun dunnn.
Julia and Favorited Frank (Brian d'Arcy James) meet to discuss their dumb son Leo (Emory Cohen), who is now flunking his classes. Frank is unable to discuss anything other than how much he still hates his cheating wife, however, and he storms off.
Rebecca complains that there is no time to dig into Marilyn's psyche. She also calls Tom's music boring. Tom complains to Sam (who seems to be perpetually drinking coffee), and the two end up back at Tom's apartment. Or so we assume because of the piano. Tom attacks Sam on the couch like a dirty old man, and Sam is all like, "Stop, I like God, let's slow down." Tom is baffled. He is also 37ish with a fear of commitment.
Article continues below advertisement
Meanwhile, Eileen has decided to see what Ellis dug up on her love interest/investor Nick (Thorsten Kaye). She goes through his files, which we assume also include folders labeled "How To Ruin Lives," "Embezzlement 101" and "12 New Ways to Wear Pastels." She finds the correct folder rather quickly, flips it open and mutters "Another crook." Another crook? Is ex-husband Jerry a crook, too?
Julia and Frank meet with Leo's guidance counselor, who asks if there are problems at home. Frank denies home issues, and Julia tells him to "stop lying." That's rich, coming from you, Julia. "We have been living apart for a few weeks now," she says. "Yeah, I had an affair, which was totally and completely wrong on every level, and Leo found out about it. Before Frank did, actually." Um, TMI, Jules. The woman isn't a marriage counselor.
Article continues below advertisement
We're then treated to a brand-new Bombshell scene, of Marilyn in acting class. And then we have a really terrible scene where a leather-clad fellow called Colin bursts in and demands to speak to Rebecca. We know he's bad news, because of the leather. She yells at him to leave, says he's drunk, and Eileen threatens him with pepper spray. Later, she demands that Tom and Julia come up with a way to please Rebecca.
Once again, Karen visits Dev's office. Is it even lunch? Today, she finds that Dev's office has been taken over by that creepy dude who got the press secretary job. Dev has been relegated to a cubicle, which is the ultimate insult in office politics. RJ (Tala Ashe) is sitting all sluttily on his new, tiny desk. Karen and Dev have a fight in the hall, and Dev says she is more upset about not being told than she is that he didn't get the job. Karen is genuinely sorry. She invites him to a screening of Casual Friday 2, Rebecca's new movie, that night. Dev gives her a maybe.
Article continues below advertisement
Rebecca shows up at Eileen's office (does anyone call first anymore?). Ellis tries to announce her arrival, but our movie star slams the door in his face. She says she loves the new pages Julia sent, and she has lots more ideas to change up the show! Eileen agrees to get everyone together to discuss. Everyone meets at Tom's, and Derek and Eileen are unknowingly sitting on Tom's sexy time couch. Ew. Rebecca blows off her screening for this meeting. She actually demonstrates some self-awareness, agreeing to hire a vocal coach and leave most of the musical numbers as they are, just cutting back on her solos. Too good to be true?
At the screening, Karen tells Ivy Dev is coming, when he said no such thing. He never shows up because he's having too good a time with RJ. Ivy suggests Dev isn't there because he's sharing the company of another girl who is really hot. Karen gets mad and takes off. Ivy says she was just kidding. Um... ha?
Ellis is on his way to the screening when he gets a call from Randall (Sean Dugan), Rebecca's agent who is trying to make good on Ellis' promise for sexy time in exchange for Rebecca. Except, Randall actually seems to like Ellis for some unknown reason. Due to a call-waiting mishap, he hears Ellis call him a "loser" that he has to "suck up to." D'oh.
Article continues below advertisement
Favorited Frank and Julia sit down to tell Leo he needs to get his act together. We have this amazing moment:
Leo: If you haven't noticed, this is kind of a rough time for me.
Favorited Frank: I DON'T CARE!
Oh, Favorited Frank. We heart you.
Also, Leo seems to think the only reason people go to college is to meet their future spouse. Further proof Leo is an idiot.
Eileen meets Nick at a bar that isn't The Bushwack, and we learn that he has "a business arrangement" with a mob family and "illegal Dominican guys doing the dishes at the bar." He's all like, "hey, if you want to have a bar in this city, you gotta get your hands dirty." We have no idea how true that statement is, but we like Nick saying words like "dirty." We also enjoy him saying "hello" and "where's the bathroom," though. Sue us, we aren't that picky. Neither is Eileen, as they are soon kissing again.
At the next rehearsal, Randall calls Ellis a "user" and notes that he "hates users." We really hope Randy decides to get revenge. Ellis needs a bigger adversary than Julia — she is too distracted with Favorited Frank and the idiot son. Anyway, by the end of the episode, the school scene is shaping up and Rebecca is singing much better. And! She has many more ideas for the show!