NEWS
Snooki's Baby Shower and Angelina's Apology Tour: 'Jersey Shore' Recap: Season 6, Episode 10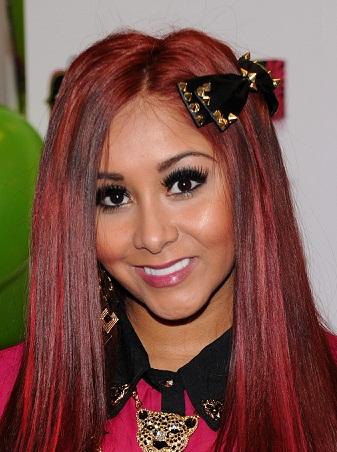 Ah, welcome back to Jersey Shore, we hope everyone had a nice Thanksgiving. This evening, we start with a boredom-and-old- beer combination, followed up by feigned surprise, two or three doses of "Awk-ward!" and to finish, a giant letdown.
Nicole "Snooki" Polizzi is feeling lonely and ignored by her friends and her fiancé, Jionni LaValle. She gets on the duck phone to give Jionni hell about his softball games, which he apparently consistently chooses over her. In the meantime, we see Snooks copied Paula's hideous manicure. Somehow though, on Snooki, it works. It's the Jersey Shore version of a double standard. On Paula, we say, "Ouch! Paula's manicure is an assault on our eyes!" And on Snooki, we say, "Oh, that crazy Snooki having fun with her nails. Whatevs." The Snooki Standard.
Article continues below advertisement
Unprovoked, Ronnie Ortiz-Magro dons a gorilla suit and scares Jenni "JWoww" Farley out of sleep. It got a laugh out of us, we have to admit. We're just glad he thought better of scaring Snooki.
OK! GALLERY: THE JERSEY SHORE CAST SAYS GOODBYE: LOOKING BACK AT FIVE SEASONS OF GYM, TAN, LAUNDRY
Less interestingly, the housemates discuss Jionni's amateur softball career. They all think he should spend less time doing that and more time with his pregnant fiancée. "Someone else can collect the bats," says Ronnie. (Ha!) We're kind of on Jionni's side with this. It's not like Snooki is alone. She's fine. What can he do for her besides sit around and look miserable because he'd rather be playing softball? Play ball, Jionni!
Mike "The Situation" Sorrentino, Vinny Guadagnino and Paul "DJ Pauly D" DelVecchio go out to find girls. Mike refers to this activity as an "MVP extravaganza" and thinks the only reason he didn't find a girl to come home with him is because his ex-girlfriend Paula showed up at the club. We think it was because of his use of the word "extravaganza" coupled with the fact that he is Mike from Jersey Shore.
Article continues below advertisement
Paula is depressed. God knows why. Sammi "Sweetheart" Giancola and JWoww tell her she looks really cute (and she does). Paula sighs and says: "You can look like a million bucks but you got to feel like a million bucks to look the part." What? No. Then she says she feels like a hundred bucks. Well, that doesn't sound so bad. A short while later, JWoww makes a go-go dancer feel like ten bucks, which is probably about what her outfit cost at the Halloween Store. Something about JWoww's performance made us want to see her and Pink hang out more. It was tough-sexy. Brava!
Snooki says she wants to go to "the baby store" and everyone freaks because apparently there is no other baby store around except Childrenswear, and the girls already bought everything in it for the baby shower. They and Jionni scramble to make up excuses for why Snooki can't go to the baby store, none of which are good, or even plausible.
Snooki and Jionni have a sulky dinner and then go to bed while everyone else goes to a club called Merge, where they have never been. JWoww's pants rip while she's droppin' it. She declares it's the worst night ever, and that was before Angelina Pivarnick showed up.
Article continues below advertisement
"I know I ain't chillin' by the dumpster, but I smell trash," Ronnie notes.
Oh God. Angelina's Apology Tour is so embarrassing. Everyone is right when they say she should have made a quick exit after saying whatever the hell she was saying. She appeared obsessed with her former castmates, forcing them into hugs and saying "I love you." We won't be surprised if she steals Ronnie's gorilla suit and sneaks into the house.
Article continues below advertisement
The next day, everyone is hungover but they race around trying to prepare Snooki's baby shower, which is rather cute until the hellos are over. We are all for guys having to suffer through baby showers since we have done it for decades, but we're not sure we would have invited Mike. As for Vinny, he finally steps it up and initiates a private conversation with Jionni about the tension between them (you know, because of that whole Vinny-slept-with-Snooki-while-she-was-with-Jionni thing).
The previews two weeks ago led us to believe we would see this conversation this week, but they tricked us! How dare they. We have a feeling Vinny and Jionni are going to be OK, or OK enough. We think they're both mature enough to want to do what's best for Snooki. What say you?
One final thing: We want to say good job to whoever bought that giant duck we saw at the shower. It was really stinkin' cute.