NEWS
Soleil Moon Frye — Busy Being Mommy, Author Instead of Punky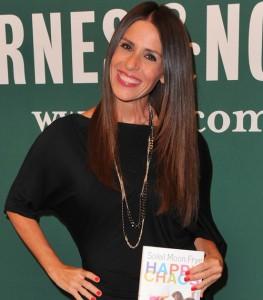 Children of the 1980s will no doubt always have a fondness for Punky Brewster — the sweet, adventurous little orphan with mismatched shoes and bandanas tied here and there. The real person behind Punky, Soleil Moon Frye, still loves her old character, but has a new focus in life, including new book Happy Chaos: From Punky to Parenting and My Perfectly Imperfect Adventures in Between, and the life as a busy mom that inspired her to write it.
Article continues below advertisement
OK!'S RED CARPET CONFIDENTIAL: DEMI MOORE, ASHTON KUTCHER SURPRISE SOLEIL MOON FRYE'S DAUGHTER
Soleil talked to CNN about her past as Punky which is only one part of her life equation: She's also Target's Mommy Ambassador, the owner of an eco-friendly children's boutique, activist, web series host, and now a first-time author.
So what are Soleil's most cherished memories being Punky?
"We were always kids first and foremost, so for us the set was literally our playground," she said. "We'd take our pogo sticks and hop off of furniture and ride our scooters through the sound stages and just the smell and the nostalgia of that whole time is so close to my heart."
As for her favorite episodes, Soleil admits her real-life crush visiting the set gave her a real racing pulse!
"The episode with Andy Gibb was another favorite! I had such a big crush on Andy Gibb at the time. He did two episodes - in the episode where he's singing to me, you can actually see my love for him gushing out!" she admits. "I loved the episode where Cherie got caught in the refrigerator because we had so many people that watched that episode and then went on to save their little brother or sister because they'd seen that episode. That episode was actually inspired by someone who wrote in and shared the idea."
Article continues below advertisement
OK! NEWS: SOLEIL MOON FRYE IS "SUPER EXCITED" TO SEE PAL ASHTON KUTCHER IN TWO AND A HALF MEN
Soleil co-founded The Little Seed, an eco-friendly kid's clothing line, which doesn't just clothe children, it educates them about where their duds come from!
"We really wanted to create something that was eco-friendly for our little ones, and also to make the planet a little healthier. What we wanted to do, really, was to be able to educate and share and really communicate with them," she tells CNN in the interview. "So some of our clothing is raw cotton, some of it is organic cotton — we use a lot of organics — but I always wanted it to be inspired by the idea that grain can really be in every color and that we didn't have to take the concept of organic being just beige and cream, but that we could really make it vibrant and colorful by using low-impact dyes."
For those hoping to see Soleil back on the silver or small screen — you're in luck! She shared that she's ready to return to acting.
"What I've realized over the last few years with everything growing is that I don't have to choose between being a mom and following my dreams of having a career," she says of her decision to act again. "I can actually do both and I think for a long time I felt like I'd have to make a choice, then I realized you can do both and you can do both gracefully."