NEWS
Spencer Pratt Abandons 'The Hills' to Combat Cyber Terrorism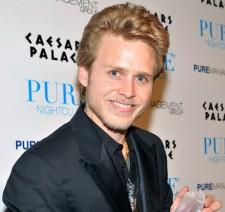 Spencer Pratt has decided to leave reality show The Hills — but before you get too choked up, don't worry, he'll still be on TV. FoxNews.com confirms that the blond-bearded one will be learning the ropes of cybersecurity with a new show.
Bill Beasley, president of American Defense Enterprises, a firearms training firm in L.A., told FoxNews.com that he's been working with Spencer on the idea, and that they're in the "beginning stages" of negotiations.
Article continues below advertisement
"He's always been very patriotic," Beasley says. "What you see on television is not him. He's moving out of the Hollywood portion of his life."
OK! GALLERY: HEIDI & SPENCER RING IN V-DAY IN VEGAS
After receiving a death threat against himself and wife Heidi Montag, Spencer contacted Beasley.
"He wanted to learn how to protect himself," said Beasley of Spencer, who is one test away from becoming certified as a firearms instructor for his company.
"We are looking at creating a cybersecurity division separate from ADE," he said. "It's rare to see a celebrity put his reputation and actual money up for America itself."
Spencer recently announced his break from The Hills in favor of protecting the country, according to published reports.